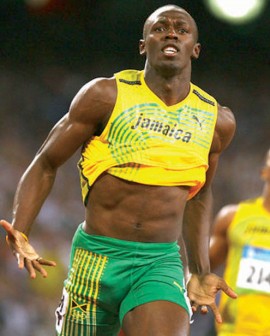 Triple Olympic champion Usain Bolt believes British sprint prodigy Adam Gemili should go to the London Olympics — if he has the mental strength to handle it.
Gemili, 18, made a stunning 100 metres breakthrough last weekend when he clocked 10.08sec to become the second fastest British junior of all time and the quickest sprinter in Britain this year, but he faces a dilemma over whether to stick to his original plan of competing at next month's World Junior Championships in Barcelona or concentrate on London 2012.
But Bolt warned that the teenager needed to think carefully about whether he was ready to make the step up.
"It all depends on his mental state," said Bolt. "If he's not mentally strong, then I don't think he should try for the Olympics, but if he's mentally strong, why not? Why not give it a try because if he's running 10.08 and he's mentally strong, then that's very good and he's faster than a lot of professional athletes on the circuit.
"Anything is possible. You've just got to know whether he can handle it because sometimes if you go up against top athletes it can mess you up mentally and then it could set you back a couple of years."