The entente cordiale between the leaders of the Action Congress of Nigeria and the Congress for Progressive Change continued this morning, with General Muhammadu Buhari and Asiwaju Bola Ahmed Tinubu arriving Kano together in the same jet.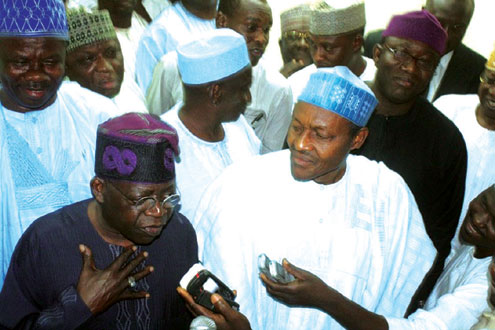 Both leaders flew into Kano from Kaduna to attend  the turbaning of the Central Bank Governor, Sanusi Lamido Sanusi as the Dan Majen Kano.
General Buhari, presidential candidate of the CPC in the last election had hosted Tinubu and two governors of the ACN – Kayode Fayemi of Ekiti and Ibikunle Amosun of Ogun, Chief Audu Ogbeh, a prominent leader of the party and Lai Mohammed, publicity secretary,  when they visited him in Kaduna.
General Buhari had visited Tinubu in Lagos last month.
The public outings and the reciprocal visits have been generating excitement among supporters of the two opposition parties, with hope that their merger would  unseat the Peoples Democratic Party PDP in the 2015 elections.
Both parties had explored alliance and merger talks in the run up to the 2011 elections, with both blaming each other for scuppering talks.
Now, sources said, the two groupings have seen the need to bridge differences and make the merger work this time around.
—Femi Adi/Kaduna