A 42-year old blind shoemaker, Sunday Owoyemi, who is happily married to a deaf, dumb and autistic wife, Tawa, has confessed that though they maybe physically impaired, their sex life is absolutely great, adding that they are not lacking in that area of their life.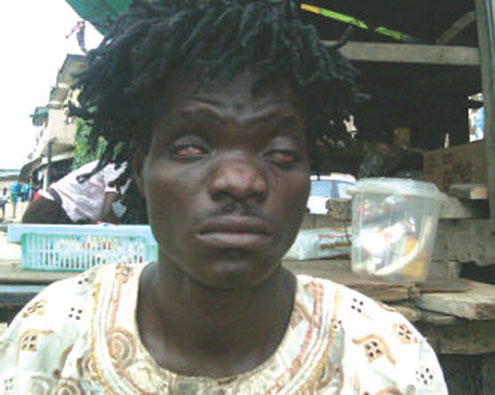 "Our sex life is great. She usually gives it to me real good. We do everything that couples do (laughs) Our challenges do not affect our feelings. We've never had any problem in that area of our lives," he said happily.
The couple, a resident of 22, Olabode Street, Oworo, Lagos, Southwest Nigeria, who has been married for over two years was recently blessed with a baby boy christened Michael Morenikeji Olorunjuelo Oluwadarasimi.
The baby born without defect is considered by their neighbours as a miracle child, considering the circumstances surrounding his birth.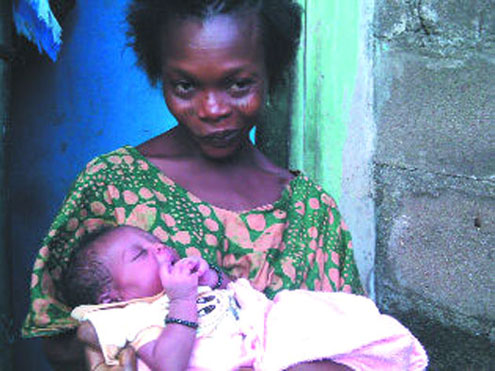 P.M.NEWS reliably gathered that the mother was rejected at various hospitals she visited while trying to put to bed, including Ifako General Hospital.
Narrating the circumstances that led to their marriage, Owoyemi said: "I believe God destined us to become husband and wife. I knew her many years ago and we were very close then. At a point we lost contact but as God would have it, we came across each other again in a mysterious way after about six years. It was at that point that we got married. And since then, we have been living happily, and have had no cause to quarrel."
Speaking on how he goes about polishing and mending shoes as a visually-impaired, he said: "It's God. I was partially blind when I started mending shoes, so now that I don't see at all, I still use my experience over the years to at least polish shoes and do some other minor things. It's only God that has made it possible so that I won't end up as a beggar on the streets.
"God can do all things and I believe He will open my eyes one day. He has been helping us; though some times we don't always have food to eat, especially with the arrival of our first child."
During a visit to the couple's residence, a picture of poverty is crystal clear around them but their home is filled with an aura of love. The husband cuddled their new born baby with one hand while holding the love of his life with the second hand.
Though he could not see the handsome baby boy he was carrying, nevertheless, his countenance was that of a man truly grateful to God as he intermittently grinned with delight.
Interestingly, the abundance of love radiating between the couple has endeared them to many other couples in the neighbourhood.
Adebanjo Abimbola who lives adjacent to the Owoyemis, says: "The way the couple lives their life is a challenge to other couples in the neighbourhood; though physically challenged and faced with harsh economic condition, they are always seen together and happy with each other. They epitomise my idea of true love and we all are learning how to love our spouses from them."
"The man is blind and the woman is deaf and autistic. We (neighbours) have never seen them quarrel with each other. You need to see how happy they live as if all is well with them," Folake further hinted.
Omotola, a neighbour spoke on how  the couple communicate with each other, do the cooking and other household chores.She said, "two of them go to the market together to buy foodstuffs. The wife, in her condition, does the cooking and every other domestic chore with assistance from her husband.  Though dumb, she always tries to mutter out some words. Most of the time, no one else understands her except the husband because she does it incoherently."
—Jamiu Yisa