The General Overseer of the Synagogue Church of All Nations, SCOAN, Prophet TB Joshua, has said that disasters are widespread these days because people no longer listen to the prophets of God.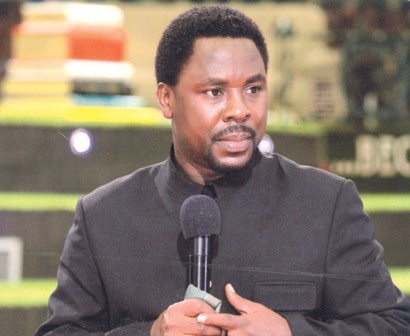 TB Joshua did not speak specifically about that Dana plane crash that claimed more than 150 lives on 3 June, but he explained during his sermon yesterday that people no longer believe the prophets of God or do not like genuine ones, adding that this was unfortunate.
Reacting to allegations that he is a prophet of doom who always warns against natural disasters, death of prominent people, catastrophes or tragedies, the Man in The Synagogue, said that a prophet is meant to expose the hidden plans of Satan.
"It is not that I don't see good things. I see many good things coming but they are your right already. Mine is to expose evil and we join hands to pray against it."
Prophet TB Joshua prayed God to raise more prophets for the protection of His people.
Admonishing some ministers of God who are always wary of him, he said, "I am one of you. That you are not TB Joshua and that TB Joshua is not you does not make us enemies. That you cannot do what TB Joshua is doing and that TB Joshua cannot do what you are doing does not make us enemies.
"You are because I am and I am because you are. Where I am weak, you are strong and where I am strong, you are weak. We are one another's strength. Let us work together to achieve bigger success."
The Man in the Synagogue also asked the congregation to pray for the United States of America, saying, " because I can see in one of their barracks, whether police, army, navy or airforce, a gunman, suddenly running berserk and shooting discriminately, but this can be averted."
TB Joshua, who is noted for his accurate prophecies, also asked people to pray for the country, Germany, to avert sudden sickness for a former prominent woman politician.
On his 49th birthday on Tuesday, 12 June, he said the gift he needed from people is for them to continue to pray for him as they have always done and wherever they may be that day, they must not forget to give to the needy.
He added that people should reserve all their elaborate plans for his golden jubilee next year.
—Simon Ateba