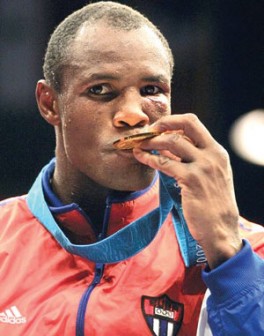 Away from his painting, watercolors and oil pipes, boxing legend Felix Savon, three-time Olympic champion, said the Cuban boxers will pleasantly surprise their people at the 2012 Olympic Games in London.
The national team are well prepared and will struggle in the British capital, while being composed by young athletes eager to achieve success, they may climb to the top of the podium in four or five divisions, he told insidecostarica.com.
The legendary pugilist, champion in Barcelona-1992, Atlanta-1996 and Sydney-2000, was attending the Annual Giraldo Cordova Cardin International Tournament.
According to Savon, the latest Cuban boxing performance in the 2011 Pan-American Games of Guadalajara was a demonstration of the sports power after winning eight of the ten titles in dispute, and together with athletics, were the disciplines that most contributed to the national medal table.
In this regional event, Cuba once again demonstrated its strong boxing potential, its good preparation, and the situation in London of course is very different, but I rely on our athletes, he added.
While acknowledging that the pugilism in the country is on the right path, Savon ventured to say that the Olympic team has lacked to compete more in Europe.
This is a place where the world boxing elite meets to weigh its potential, and would have been a perfect season's closure towards London-2012, the national team trainer also argued at the Wajay farm, the Cuban boxing headquarters.
Savon, who has recently developed incredible talents of plastic arts, recalled his days before each Olympic event: desires, strong emotions; but assured not to feel nostalgia for that times.
"Of course I want to go to London," he said while answering if he would like to be part again of the national team.
"With this condition would be ideal, but I want to see the subway stop that has my name on it and those of my fellow Olympic champions," he said.
"It would be the first time something like this would be named after me, and this should be nice and huge experience," he gasped with excitement.