To eat or not to eat? That is the question for about 3,000 Muslim athletes at London's 2012 Summer Olympic Games.
All 17 days of competition, from 27 July through 12 August, fall within the holy month of Ramadan – a time when Muslims are required to fast and refrain from drinking water from sunrise to sunset.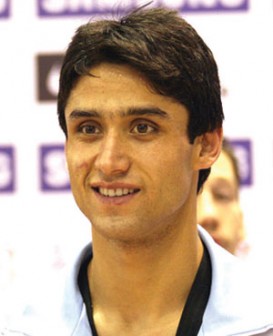 But the obligation is more lenient for traveling Muslims, who are allowed to delay their fast. Some Islamic scholars say athletes traveling to London to compete in the games should take advantage of that exemption.
For medal contender Nesar Ahmad Bahawi, a 27-year-old Afghan taekwondo fighter, the issue is critical.
Bahawi finished seventh in his weight group at the 2008 Olympics. He won silver medals in the 2007 Taekwondo World Championships and 2010 Asian Games. Bahawi says he will delay his Ramadan fast until later.
"We have a very important competition. It is the dream of every athlete to win an Olympic medal. Because of that, we must not take part in the fast," Bahawi says.
"But we will compensate by later respecting the same number of days that we did not fast during Ramadan. This is because we are training on daily basis," he adds. "During days when we have competition, it is completely impossible to fast because it is necessary for us to at least drink water."
Olympic Committees in conservative Islamic countries like Saudi Arabia or Iran could require athletes to observe the Ramadan fast. Delaying the fast also could be frowned upon in some cultures.
But most Muslim Olympians, faced with what could be an unfair disadvantage if they observe the fast, say they are ready to delay the obligation.
Islamic scholar Siddiquallah Fedayi says the Koran requires traveling Muslims to delay their fast. Fedayi cites the Koran's Sura al-Baqarah chapter — verses 2:183-2:185.
"The issue involves the question of where the games are taking place. Is it in the athlete's village or his hometown? Or is it somewhere else?" Fedayi says. "If he goes somewhere else to compete, then the Koran says: 'If you are ill, or a traveler, carry out your fast later on.'"
For medal contender Nesar Ahmad Bahawi, the issue is critical.
Fedayi says the Koran also allows Muslims who are not travelers to decide themselves. "When a person has health problems or if the fasting would hurt their livelihood, or for some other reason if a person needs to eat, in that case, a Muslim should make a decision based on what is the priority for him," he says, because "there is not clear guidance to tell them that they must delay their fast."
Mo Sbihi, a 24-year-old expected to be the first Muslim Olympic rower for Britain, says he will postpone his fast until November. He says the Olympics are a "once in a lifetime opportunity" for his whole team — and it would be risky to fast during the competition.
Bahaa al-Farra, a 20-year-old runner from Gaza City, got permission from an Islamic scholar to break his Ramadan fast while training and competing. Farra also will compensate by fasting later.
Medical experts say fasting could hurt performances — especially in sports that require muscle strength and endurance.
A 2007 study on two Algerian soccer teams in the "British Journal of Sports Medicine" found their speed, agility, and endurance declined significantly during the Ramadan fast.
Nevertheless, Ronald Maughan, head of the International Olympic Committee's (IOC) working group on nutrition, says no country filed a complaint when the London schedule was announced nearly a decade ago.