Barely two weeks after a ghastly accident claimed the lives of several Nigerians on the Lagos Ibadan Road, tragedy again struck this morning on the same road when a MAC truck crushed a car, instantly killing the driver of the car.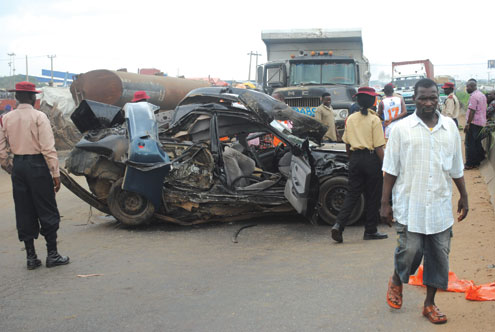 A pregnant woman in another car narrowly escaped death but her car was badly damaged.
The accident happened close to the headquarters of the Mountain of Fire and Miracles along the road.
The truck with registration number Lagos XS 46 Epe which was on the Ibadan-bound lane and loaded with rocks was said to have lost control and rammed into the car with registration number CX 639 LSD.
The corpse of the driver of the dark-green colour car which could not be recognised due to the impact of the accident was said to have been deposited at a hospital by road traffic officials.
P.M.NEWS learnt that the truck driver escaped from the scene of the accident leaving the truck behind after he realised that he had killed someone.
According to eyewitnesses, the driver of the truck which was on high speed suddenly lost control of the truck and rammed it into cars in front of him.
The pregnant woman, whose identity could not be ascertained, narrowly missed being killed in the accident as her car, a Toyota Corolla with registration number CZ 578 JJJ, was also badly damaged by the truck.
When P.M.NEWS visited the scene, the pregnant woman, who was too shocked to speak on the incident, frantically tried to call some of her relations. The incident resulted in heavy traffic on the road with most vehicles diverting to the opposite lane.
Traffic officials were also at the scene trying to control the situation.
Nigerians have constantly lamented the state of the road which has resulted in the death of several people in the past.
They have also severally complained about the reckless activities of truck and tanker drivers making use of the road.
Trucks parked indiscriminately on both sides of the highway usually cause fatal accidents. Last month alone, two major accidents occurred on the road which was allegedly awarded to Bi-Courtney for repairs some years ago but nothing has been done so far.
—Sylvanus Nwafor