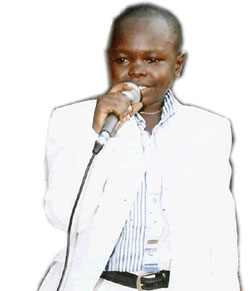 Pint-sized actor, Ibrahim Mousa, fondly called Ibro, has said that he is not competing with his contemporaries of the Aki and Pawpaw fame.
Rivalry and undue competition is common among Nollywood practitioners, and it has sparked public face-off among many actors. But Ibro, who had been speculated to be competing with Aki and Pawpaw, says there is no truth in the rumour.
According to Ibro, who recently landed a mouth-watering ambassadorial deal with an international outfit, Peace on Campus Initiative (PCI), "Aki and Pawpaw are my friends and colleagues, but it would be wrong for people to speculate that we are competing. Both of them are doing well, likewise myself, so there is basically no reason to compete.
"Besides, there is enough space for everybody to shine and make money without disturbing one another. The industry is very large for  everybody and I'm enjoying it."
Since Ibro was officially unveiled as the ambassador of the organisation under the chairmanship of Oliver Cowell, he and his entourage have been busy campaigning against social vices like cultism and prostitution among Nigerian youths.
Ibro, who is currently in the Eastern part of the country, is expected to cover all the geographical zones of the country before the train will move to foreign institutions, particularly in West Africa.
NollywoodReel gathered that the PCI project is supported by the Federal Government through the Special Adviser to the President on Ethics and Values, Sarah Jubril.
In a chat with NollywoodReel, Ibro said: "It is a massive project and the Federal Government is actively involved too. The purpose  of the project is to fight cultism and other social vices that have plagued our tertiary institutions for  some time now.
"So far, we have made tremendous impact. To God be the glory, a lot of cultists have renounced their membership through this platform. We will not relent until the vices become a thing of the past in our society."
Asked if his acting career will not suffer due to his ambassadorial appointment, Ibro said "Not at all.  As a matter of fact, I will be doing more movies that will tackle the  negative effects  of these social vices soon."
By Bayo Adetu