Lagos State Governor, Babatunde Fashola  says the monthly Internally Generated Revenue, IGR, of the state is now N23 billion.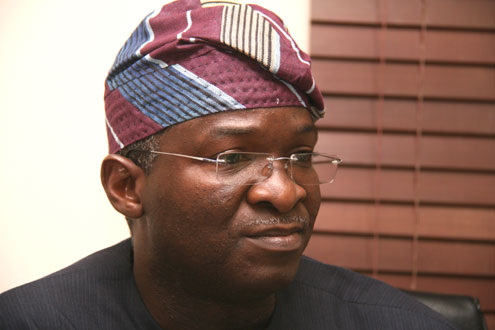 The state governor made this revelation at the annual public lecture of the Institute of Chartered Accountants of Nigeria, ICAN, in Lagos State Public Service held at the Sheraton Hotel and Towers in Lagos, Southwest Nigeria, where he spoke on the theme: Accounting and Accountability in the Oil and Financial Sectors.
The governor, who was represented by Lateef Abari, Permanent Secretary, Public Service Office, charged members of the ICAN to ensure accountability in handling the nation's financial resources.
Fashola praised the support of chartered accountants in the state, especially in the drive for enhanced internally generated revenue for rapid development.
He said the IGR of the state rose from a paltry N600 million monthly in 1999 to N23 billion currently and that it was through the efforts of accountants in the public service that the loopholes were blocked resulting in increase in IGR.
Fashola decried the gross imbalance in the nation's sharing formula which saw the Federal Government taking the lion's share and the states and local government being impoverished, saying that ICAN members should strive to join in the crusade to move the nation forward.
In his address, the  former president of ICAN, Otunba Lateef Owoyemi, said Nigerian leaders would continue to steal as long as the cost of prosecuting election remains extremely expensive.
The 75-year old ex-ICAN president stated that when politicians seeking elective positions to be president, governors and others spend billions of naira campaigning, they would certainly steal when they get into such offices in order to recoup what they have  spent and to settle cronies who bankrolled their campaigns.
"Things have gone upside down in Nigeria. We are wasting our time, we are not dealing with the core issue of this problem. Three things make people to be corrupt, which are pressure, opportunity and justification.
"If we don't reform the election process in Nigeria, corruption will continue to be part of our life. If we don't devise another means of campaigning for election, corruption will never end. If we don't tackle the issue of election cost, corruption will never cease.
"If people will spend billions of naira to get elected, they must get the money back. If you are in a position of power, there is no way you can be poor. Let us have a Nigeria that is sensible and working," he said.
ICAN President, Mr. Adedoyin Owolabi, lamented that the oil revenue had made the nation to abandon agriculture which used to be her mainstay, saying that the oil money had come with lots of sorrow and corruption.
He said the probe of  fuel subsidy payments in the country is a blessing in disguise as it has helped to unravel how members of some cartel stole the nation's money, while he called on chartered accountants to embrace best accounting practice.
—Kazeem Ugbodaga

Load more