Former Nigerian president, Chief Olusegun Obasanjo. Sudanese supermodel Alek Wek, hip-hop pioneer Rusell Simmons, Senegalese-American Akon and football star Emmanuel Adebayor are among the rich list of opinion and thought leaders that will inspire millions of youths in the second season of the MTV Base Meets With MTN premiere on 1 August.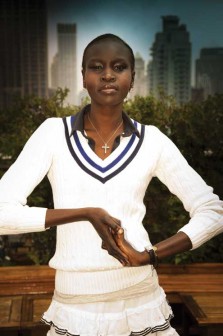 MTV Base Meets…with MTN is returning to television screens across Africa on the back of a highly successful first season that saw African youth make positive life-changing decisions after meeting their heroes on the show.
Alex Okosi, Senior Vice President and Managing Director, Viacom International Media Networks Africa, owners of MTV Base said MTV Base Meets…with MTN is a motivational youth empowerment and mentorship initiative and multimedia campaign that aims to inspire and motivate young Africans to understand that they are key drivers in ensuring a brighter future for our continent.
First initiated in 2011, the Season 2 of the series, sponsored by leading mobile operator, MTN, will feature an exciting and varied line-up of interviewees, including leading figures from the realms of entertainment, politics, fashion and sport, hand-picked to inspire African youth to fulfil their full potential.
Kola Oyeyemi, GM, Consumer Marketing, MTN Nigeria, said the initiative will serve as a bridge for a growing segment of Africa's population to connect with decision-makers through dialogue.
"MTN is investing in this initiative with the hope of empowering African youth by bringing them together with notable leaders, both within and outside the continent. This is another way in which MTN is enriching lives," Oyeyemi said.
Topics on the agenda include entrepreneurship, education, youth culture, politics, sport, racism, gender issues and the African Renaissance. Youth panellists who asked the questions in Season 1 of MTV Base Meets…with MTN included students, journalists, bloggers, models, comedians, actors, musicians, humanitarian campaigners and poets.
The first season of MTV Base Meets…with MTN featured among others President of Liberia, Madame Ellen Johnson Sirleaf, Rwanda's President Paul Kagame, showbiz mogul Ben Bruce, Africa richest man, Aliko Dangote, award-winning R&B artiste Alicia Keys, controversial South African politician Julius Malema and legendary musician Hugh Masekela.

Load more