Following yesterday's attack on Christians by Muslims in Kaduna, residents have started fleeing the state for the fear of being victims of further reprisal attacks.
Yesterday, some of the residents were seen being escorted out of the state by military personnel deployed to quell further bloodshed. They were escorted in their patrol vehicles.
The state boiled again yesterday as Hausa/Fulani youths launched a reprisal attack on the Christian community, leaving many dead and severely injured. The violence followed Sunday's bombing of three churches in the state.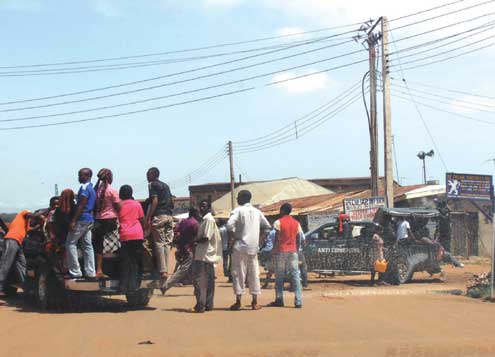 Though the state government has imposed a 24-hour curfew, residents do not feel safe. Streets were deserted today as the curfew came into force. Some residents who could not flee the state for certain reasons took refuge in a compound in Kigo Road New Extension in Kaduna yesterday.
Some of the fleeing residents who managed to speak with our reporter claimed that the decision is inevitable, considering the fact that yesterday's attack was launched shortly after the state government relaxed the curfew it earlier imposed. One of them who craved anonymity said "How do you expect us to stay when it is very obvious that our lives and properties are not safe? After the 24-hour curfew now, who knows what is going to happen next? So the best thing is to run for our dear lives."
During the reprisal attack yesterday, the Hausa/Fulani youths invaded the Kaduna Central Market, shooting sporadically and attacking Christians with machetes and other dangerous weapons.
The crisis erupted when the Hausa/Fulani youths realised that they suffered more casualties during Sunday's reprisal attack.
Meanwhile, the Kaduna Police Command has arrested some illegal aliens from Chad, Cameroon and Niger along with Nigerians in the wake of the fresh riot that broke out in the state yesterday.
The Commissioner of police, Mohammed Jinjiri Abubakar, who disclosed this while addressing newsmen at the police headquarters, said the police will not relent in their effort to expose the hoodlums behind the violence in the state.
Abubakar expressed displeasure over the manner foreigners were conniving with some criminals to unleash terror on innocent Nigerians.
—Femi Adi/Kaduna & Bayo Adetu  
Load more