Spanish midfielder Juan Mata, who is currently in eastern Europe helping his country to defend their European Championship title, has been given permission by Chelsea to play at the London Olympics.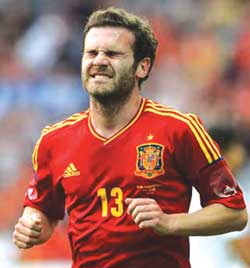 "My dream is to win in London," the 24 year-old revealed.
Mata, one of the stars for Chelsea on their way to Champions League success last term is one of three over-age players Spain have called up for the Olympics.
"I have confirmed with Chelsea that I can play the Olympics," said Mata, an unused sub for all three of Spain's group games in Ukraine and Poland.
"It's something I have agreed with the Spanish federation, and I don't want to change.
"My dream is to play and win the gold in London. After winning a lot with Chelsea last season, that would be another great honour."
Along with the Champions League victors' medal Mata also helped Chelsea win the FA Cup, and he believes the club will continue to improve under Italian manager Roberto Di Matteo, who has now been installed as permanent manager after his impressive stint as interim boss following the sacking of Andre Villas-Boas.
"I am very happy with Di Matteo continuing. I believed he deserved the opportunity because he took over at a difficult time and yet his success was total," Mata added.
"To win the FA Cup and Champions League would have been good for any fan. He was responsible for much of that, gave me confidence and more than during Villas-Boas's stay as manager.
"Now I want to try and win the Premier League title next season. Chelsea have shown towards the end of the season the quality as a team and maybe we will suffer less next season."

Load more