In what appears to be pre-empting  the Supreme Court judgment scheduled for the 10 July, 2012, thousands of  Bakassi indegenes descended on the lawns of the  Cross River State Government House, Calabar on Thursday afternoon to protest   what they term "the planned unfavourable outcome of the Supreme Court judgment on our oil wells".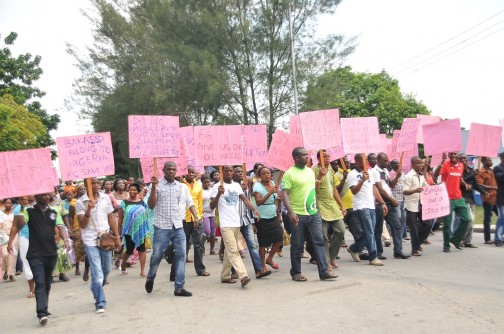 The protesters carrying all sorts of placards slamming the Supreme Court judges, especially Justice Dahiru Musdapher, Nigeria's Chief Justice and president of the Court of Appeal, and the Attorney General of  the Federation, Mr Mohammed Adoke.
Some of the inscriptions on the placards are: "Musdapher, don't  retire with our oil wells", "Spreme Court or Supreme Corruption?",  "Bakassi people  say no to Green Tree Agreement", "Adoke, away with your evil plans" , "Cross River belongs to littoral states" and, so on.
The protesters chanted dsiparaging songs to express their displeasure against the "planned  stealing of our oil wells".
The protesters and their placards did not however mention neighbouriung Akwa Ibom State which is behind the removal of  96 oil wells that belong to the state and handed over to them by the National Economic Mobilsation and Fiscal Committee in 2008. 
The protesters comprising men, women, youths and politicians from the area said they came with a letter for the president to be delivered by Senator Imoke and declared that  they would not leave the place until the state gets justice from the Supreme Court. 
Senator Imoke who addressed the people said he had confidence in the Supreme Court which is the last hope of the common man and that he was sure the people of the state would not be let down by the Federal Government which they have invested so much in. 
He called on the people to remain calm as justice would be done to the state as Bakassi remains an integral part of Nigeria.
Mr Ani Esin, the former chairman of Bakassi Local Government, said they were unhappy that the Federal Govermnt has failed to keep to the promise made to the people by President Olusegun Obasanjo in secret that  they would not lose anything by the ceding of the Peninsula.      
According to him, the people have lost everything including their ancestral land and called on the President to ensure that what "belongs to us remains ours".
By Emma Una, Calabar
Load more