By Bimbo Ajayi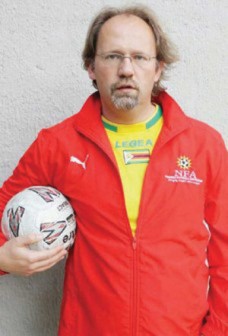 Nigeria Football Federation, NFF, has said that it is ready to defend the cancellation of the appointment of Tom Saintfiet as the National Technical Director if the Belgian decides to drag the body to the the world football ruling body, FIFA.
Speaking early today, NFF's 1st Vice President, Mike Okeke Umeh, said that the federation will defend itself if the former Namibia coach takes it to FIFA.
"If Tom Saintfiet has any case against the federation, he should take it to FIFA. We are not afraid to appear before FIFA. We will go to FIFA and explain what really transpired between the federation and the man," said Umeh.
On his part, a member of the NFF Executive Committee, Emeka Inyama, declared that the federation has not broken any contract with the Belgian tactician.
"The NFF has not broken any contract with Tom Saintfiet because the discussion was still at the first phase when it was cancelled. We  must have concluded the contractual terms, residential permit and the housing arrangement before we can say that we have given him a contract," said Inyama.