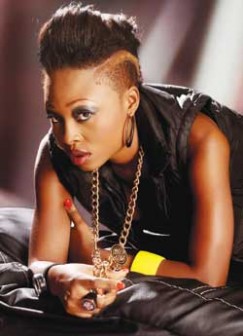 Following the acceptance of her debut song and video, If U Don't Know, CocoIce is set to release three singles .
Biodun Caston-Dada, the A & R Director of MAGiKAL Entertainment, which currently manages her said: "We were stunned by the wide acceptance CocoIce received and the heavy rotation her video had been enjoying since it was released barely two weeks ago. We really wanted to consolidate on these. We know she is very talented, charismatic and a pretty artiste and these are the qualities we saw in her before signing her up".
Billed to be released on1, July 2012, the songs include club rocking jamz with the like of It's Me produced by H-Code, Azonto Thinz produced by Detunes and If U Don't Know (the refined mix) also produced by H-Code".
However, the management dimmed it fit for a prompt construction of a website (www.cocoicenaija.com) and an online platform via Facebook and Twitter to give her fans the opportunity to interact with her. It will also keep fans abreast of the latest happening as regards studio sessions, songs, videos, downloads, themes, wallpapers, pictures, merchandise, ring tones and online promotions.