Captain Hugo Lloris has leapt to the defence of his France team-mates, saying they should not be judged on reports of infighting during Euro 2012.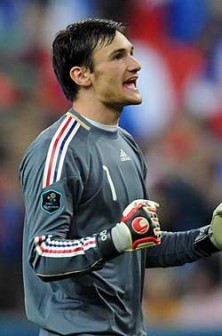 News surfaced of dressing-room unrest following the Group D loss to Sweden, with coach Laurent Blanc later admitting things "had kicked off a bit" in the immediate aftermath of the 2-0 reverse, which left Les Bleus as runners-up behind England.
The quarter-final exit at the hands of defending champions Spain sparked further reports of bust-ups, while midfielder Samir Nasri also came under the spotlight for an expletive-laden rant at reporters.
Nasri later apologised for the outburst, but the incidents were reminders of France's shambolic 2010 World Cup campaign and player mutiny under former coach Raymond Domenech.
However, Lloris has moved to play down the unrest.
"It looks like it only happens in the France team and to this France team," the Lyon goalkeeper said in L'Equipe.
"But it happens to all generations at all levels."
Lloris does feel such incidents should not be played out in the media, though.
"Something like that should stay in the dressing room," he said.
"It's about the squad, not individuals. This is where things like this bother me because this is not the first time it has happened.
"I cannot condone what Samir said. But I find it unacceptable that people use that one incident to sum up the behaviour of the team.
"Everything has been mixed up. In sporting terms, it's true the Euros have not been perfect but we must judge things on our journey over the last two years."
Lloris is also hoping Blanc stays on in his current role, with the France coach set to meet the French Football Federation to discuss his future.

Load more