Adeyelope Lipede, Executive Director, Solution Media & Infotech Ltd, an outfit for cinematography and multimedia presentation, in this interview with P.M.Entertainment speaks about the outfit, music, film and allied industries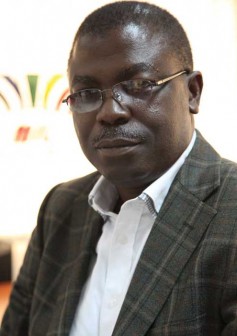 Why did you name your outfit Solution Media?
It is a multi-dimensional company because we are into a lot of things. We are into lighting, we are into entertainment, from film productions to musical shows to having a tent that can sit 19,000 people. We try to create some effect that is very rare to achieve through light.
How about entertainment?
Entertainment? That is interesting because if you look at the economy today, you will discover that what is thriving today is entertainment.
As a person with marketing experience and a stint in the oil sector, why are you investing in entertainment?
I discovered it is an area I have passion for and I will be able to get across to a lot of people.
Why is your compnay unique?
We cover all areas like the 100 x 60 sq metre which is not common here in Nigeria. The only one I have seen is in Europe. I have not seen anyone in Africa and the tent is the second largest in the world. If you don't want to got to Eko Expo Centre and you have an event, the tent is what you need.
How about the lighting aspect?
The lights we have help to create a kind of ambience. For example, if you have a musical show, the light will make you have a feel of the show, you need to see what we have.
Can your equipment function for an outdoor show?
We have different equipment for different events. We can supply equipment for both indoor and outdoor shows. For example, we have an outdoor show event on 23 August, 2012 at the Harbour Point.
Is it an experimental show?
No. It is to show people that we can do it.
What kind of show?
It is a show that is strictly by invitation and we will be having artistes on band stand. A Nigerian pair, other artistes from Kenya and a Nigerian group.
Who are the Nigerian pair?
I won't mention the names, but we will be having a Nigerian pair and before the show, there will be rehearsals not "DJ play my track" issue.
What kind of music will the Nigerian group play?
They will play all kinds of music from highlife, hip hop, juju and other brands of music. It will be played live.
Will they replay other people's music?
Yes. They will do that.
Will you assemble the group?
No. It is an existing group.
In the past, we had some sound controlled lights. Is yours different from this?
It is a combination of different lights which can help create any ambience you want. We have what is obtainable in Europe, Las Vegas, New York etc.
Is your light superior to those used in some Nigerian concerts?
Well, it is not that the lights are substandard but they are limited because some are obsolete. The last sets of light was released in March, 2012 and that means we are competing with world class. But the kind of lights used in Nigeria are those manufactured about six to 10 years ago. The industry has more so we need to move on.
In the past when we had Golden Tones Benson & Hedges Concert, the Rothman's Groove, organisers used to bring equipment from Europe and other parts of America. Is that still necessary with your kind of equipment?
No. With what we have, we can compete with others in any part of the world because we have lights and the equipment. We have Rob 100 that is the fastest and the newest technology in terms of light now. It was introduced to the market in March this year and we have 48 of such lights now. We also have workers who can install the lights, the equipment, the stage and the tent.
What of the cost?
Cost is relative. It depends on the show, but our cost is reasonable and we have quality equipment.
Considering Nigeria's weather, can your equipment stand the test of time?
Oh yes. When there is rain, we have a tent that can cover any length, so weather is no problem.
What of Nollywood?
We have had series of meetings with them concerning the kind of cameras they use and the need to do a quality film that can be shown abroad. It is not that our films can not compete with the ones abroad, but they are just doing a lazy job.
In terms of cameras?
Apart from the camera, they need to plan because most of the foreign films take about one year or more to produce but our people want to produce a film in two weeks. They are always in a hurry. Sometimes, they get to location and start changing scripts. We need to plan. We have cameras that can serve Nollywood.
Are the cameras HD?
Yes, All our cameras are HD compliance.
Which is the latest one you have?
We have S35, which is strictly for film making. We have Phantom Flex and we have cameras that show you what the eyes can't see. We have the F3 and the one that was used in this country was hired from America; they brought people that operated it to Nigeria.
Do you have personnel that can install all these?
Yes, we have people that can do that. We train and retrain our personnel. In a nutshell, we have personnel and the best of equipment.