Andres Iniesta has been named as the best player of Euro 2012 after his side won last night's final over Italy.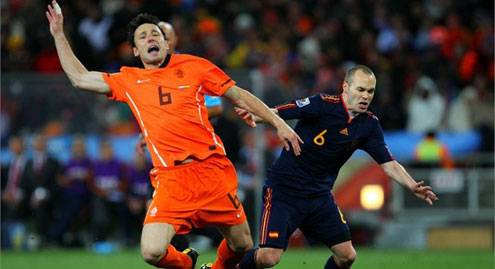 The Barcelona midfielder was sensational in the showpiece in Warsaw, conducting proceedings as La Rojas ran out 4-0 winners to lift the European Championship trophy again following triumph in 2008.
It's been an incredible four years for the 28-year-old Iniesta who was named in the team of the tournament at Euro 2008, was in the all-star team of the 2010 World Cup after scoring the winning goal in the final. He's also won two Champions League titles during that time.
Andy Roxburgh, the head of Uefa's technical group, told reporters: "Andrea Pirlo was magnificent for Italy, Xavi won it last time and could have won it again. Xabi Alonso was magnificent but Iniesta sends a message about creative and incisive football and was superb throughout."
Iniesta is joined by nine other Spanish players in Uefa's squad of the tournament. The only English player included is captain Steven Gerrard.
Responding to the award bestowed on him,Iniesta expressed happiness and said "I am very happy to win this title again, to do something unique and magical," he told reporters.
"This is practically unrepeatable and I am enjoying the moment.The important thing is that Spain are champions and that this is what the entire team wanted."
Spain had come under some scrutiny for their performances at Euro 2012, having drawn with Italy during the group stage and edged past Croatia before requiring penalties to beat Portugal in the semi-final.
They turned in a much-improved performance on the biggest stage, however, to blow Italy away at the Olympic Stadium.
"We had a very good match, we were very aggressive while going forward and scored two goals in the first half," Iniesta said, with the Barcelona playmaker setting up David Silva's initial header in the 14th-minute with an incisive ball.
"When Italy were down to 10 men, things just got easier for us. This was exceptional."

Load more