Desmond Utomwen/Abuja
More drama unfolded Tuesday in the inquest by the House of Representatives into the allegation of $620, 000 bribery involving the former Chairman of the adhoc subsidy probe committee, Farouk Lawan and Femi Otedola, Chairman Zenon Petroleum and Oil Limited with Otedola refusing to speak to the committee members in secret session.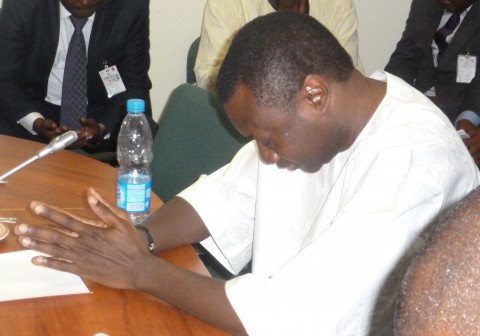 Femi Otedola who appeared before the House Committee on Ethics and Privileges to substantiate the alleged $620,000 collected by embattled lawmaker in a position paper submitted to the probe committee and made available to journalists, vehemently kicked against the decision of the committee to conduct the probe in secret.
Chairman of the committee, Adams Dan-Gambo soon after declaring the event open at about 2:10pm, ordered the journalists and non-parties to the case to vacate the committee room for the main business of grilling the oil baron to be conducted behind closed door.
But Otedola kicked against this decision.
Otedola in the statement said: "this is a matter that has generated a lot of public interest and controversy. The House of Representatives Committee on the management of fuel subsidy headed by Hon. Farouk Lawan held all its sittings in public. When this issue arose, the House of Representatives Committee on Ethics and Privileges publicly stated that its investigations will be held in public."
Otedola stated that "it is therefore surprising and curious that this
committee has made a u-turn to hold its investigative sittings in-camera particularly in the light of unfolding events.
"I strongly believe that the interest of the public will not be best served if this investigation is held in-camera. I have nothing to hide and will only speak on this issue when this investigation is conducted in a very transparent manner and press as well as the
general public are allowed to be present at the sittings of this committee from the beginning of its investigation to its conclusion." Otedola concluded
Chairman of the committee described the attitude of Otedola as highly disappointing. He however maintained that that the committee will not be stampeded in the discharge of its duty.
While declaring the meeting open, chairman House Committee on Ethics and Privileges, Adams Dan-Gambo said the committee will be fair to all the parties involved, ensure justice and promote the interest of the country, adding that the committee will treat the issue without fear or favour.
Load more