Many a fan of the former Heavyweight champion, Samuel 'The Nigerian Nightmare' Peter will sneer or worst still, attempt to block their ears when the name of the former world champion is mentioned.
It is a matter of interest that these same people would have shouted in approval few years earlier when the Akwa Ibom State-born pugilist was the king of the jungle in world boxing. But today, the name no longer strikes a cord in their hearts since Peter's career seems to have taken a nosedive and his inability to secure a first-class fight after his proposed 23 June fight fell through.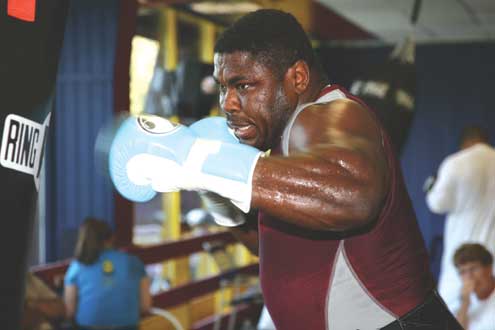 Peter rose to prominence as a professional fighter following a string of spectacular knockout wins in his early career, at a time when the division was fragmented. He kick started his professional career on a bright note on 6 February, 2001 by knocking out Georgi Hristov at Sports Palace, Phoenix, Almarty, Kazahkstan. And since then, there was no looking back for him as he recorded 24 more wins after the Hristov bout with 21 of the fights ending in knockouts before he had his first loss in his professional career to Wladimir Klitsckho at Boardwalk Hall, Atlantic City, New Jersey, United States.
The never-say-die Peter, after winning six more fights became an Interim Champion and in turn qualified as a mandatory challenger for the WBC belt held by Oleg Maskaev, who was inactive since December 2006 due to injury. This long-anticipated fight took place on 8 March, 2008, at the principal bullfighting venue in Cancun, Mexico. Peter won by TKO, with the referee stopping the fight with only a few seconds remaining in the 6th round.
Following his victory over Maskaev, Peter publicly challenged IBF, WBO and IBO champion Wladimir Klitschko to a unification bout, which would have been Klitschko's second such fight, as well as his second matchup with Peter, the first ending with a unanimous decision victory for Klitschko. Such a fight would have unified three of the four major titles, the closest the division has been to an entirely unified title since Lennox Lewis relinquished the WBA title (one of the three he then held) by court order on April 29, 2000.
Klitschko indicated he might fight Peter, but suggested that Peter should fight his brother Vitali first. Vitali Klitschko had retired as WBC champion in November 2005, and was considered the WBC's champion emeritus; giving him the right to a mandatory challenge under the rules of that organization should he elect to fight again. Peter accepted the WBC's ruling and the bout was scheduled for October 11 at O2 World, Berlin where Klitschko would receive a tremendous reception.
Klitschko had a memorable ring entrance with five former heavyweight champions appearing to wish him luck in his comeback. Klitschko reclaimed his belt in dominating fashion even though he was coming back from a four year layoff. His punch numbers were excellent and he had Peter in trouble from the first round onwards.
Peter's nightmares continued when it was revealed that he would travel to Germany to face undefeated Finnish prospect Robert Helenius. Peter was without a reputed trainer or even a cut man for the fight, yet he had reasonable success in the first half of the bout winning several of the first 6 rounds; however, after that point Peter began to show signs of tiredness.
The end came when Helenius knocked down an exhausted Peter in round 9. The Nigerian Nightmare got to his feet only to be sent back to the canvas where he remained for well over the 10 second count, awarding Helenius the win by KO. The nature of the loss to Helenius, as well as Peter's terrible physical condition have led many to call for Peter's retirement from boxing.
However, many of his teeming Nigerian fans, who had hoped that his proposed 23 June fight could have been an opportunity for him to have another shot at the world title, were disappointed that the fight could not see the light of day.
But the questioned on the lips of his teeming fans is whether Peter still has the mental strength to return to top form after his poor showing in the 9th-round knockout in the hands of unbeaten Helenius in Germany last year.
His fans feel that the pugilist, whose childhood preferred sport is football, should get his act together and get back to the ring as soon as possible to put an end to his series of nightmares.
—Bimbo Ajayi
Load more