Serena Williams and Victoria Azarenka set up a mouthwatering semi-final clash at Wimbledon tomorrow as both women powered through their quarter-final matches under the Centre Court roof yesterday.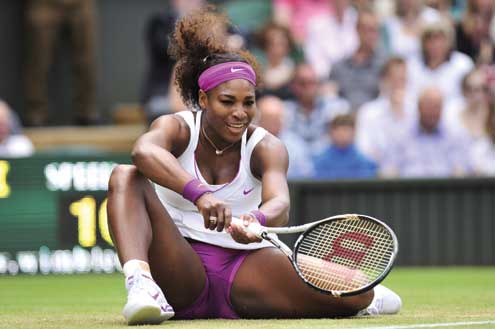 Williams insists she has nothing to lose as the four-time champion bids to secure her seventh appearance in the Wimbledon final with a victory over reigning Australian Open champion.
Serena booked her place in the last four by ending Petra Kvitova's reign as champion with a 6-3, 7-5 victory, while Azarenka moved into her second successive Wimbledon semi-final by defeating unseeded Austrian Tamira Paszek 6-3, 7-6 (7/4).
Williams, who last won a Grand Slam at Wimbledon in 2010, has been impressed by Azarenka's rise over the last six months, but the American believes the lack of pressure she feels at the moment could be the decisive factor as it allows her to go for broke at crucial moments.
"She's playing unbelievable and already having a Grand Slam under her belt is really great. She did it in such style, so it's not going to be easy if I play her," Williams said.
"It's going to be another match where I have absolutely nothing to lose. I can just go out there and enjoy myself and have fun.
"Right now if Victoria beats me, she's had a better year than I have.
"Going against a player like that, I feel like she almost has an advantage. So that makes me really relaxed and I can just kind of hit."
Load more