Iruvee Okeremute Don, known in the comedy industry as De-Don, speaks to P.M.Entertainment about his career, humble beginning and other issues
Your programme, Comedy Happy Hour on Rainbow FM is one of the most listened to comedy shows on radio. How do you feel?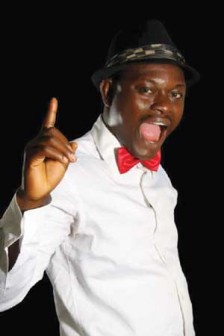 Well, I feel great, I feel honoured. It's a sign that there is reward for good labour. Comedy Happy Hour with De-Don is actually the first stand-up comedy show on radio in Nigeria. I conceived it in 2006, I took it to two radio stations, but it was rejected on the excuse that the stations are A-class, and cannot accommodate such programmes. Since it didn't work for those stations, I dropped the idea until 2011 when Rainbow FM started. The acceptance I got from Ogun and Oyo states is so much that I just need to thank everyone who supported the brand.
What inspired the programme?
I am a stand-up comedian, and since I started, I realised that people only enjoy comedy when they come for our shows or watch TV, and realising the potential of the programme, I decided to take it to a radio station where people can have a feel of it.
Considering the hindrances you faced initially what keeps you going, now that the programme is very popular?
The first thing is the acceptance from the masses; the number of people who tune in everyday and the number of calls I get when the programme is on air. That is an encouragement and it tells me that there are lots of people listening to my programme every day. It also makes me work harder.
So from here, where do you see yourself?
Let me say that in the next five years, I see De-Don as a comic export from Nigeria. I should be representing Nigeria in some big events out there. I should be representing big brands abroad as well.
Before Comedy Happy Hour, what were you doing?
De-Don was a stand-up comedian. I started in 2002 with the Nite of A Thousand Laughs. I have done quite a number of shows for big brands and A-class events before the radio show. I had also appeared in virtually all major events in the country before 2011 when my radio show began.
Having been in the industry since 2002, why has your name been on the quiet side while some of your colleagues were enjoying all the hype?
It is unfortunate that in our society, real people are not recognised. I'm not trying to sound rude but I am not the type that makes noise. I like things happening naturally. I don't live a fake life. Whatever I can't afford, I don't pretend to have it. I'm not the type that will go and spend two nights in Eko Hotel when I have just N200,000 in my account. I don't lobby, and I believe that my talent and carriage should be able to take me to wherever I want to be when the time comes. So I don't do fake hype.
When you started, who were those comedians that assisted you?
Well, I have a couple of them. At first when I came in, I had a couple of comedians calling me for events, but I realised that very few of them actually wanted me to grow. What I mean is that apart from calling me for events, some collect huge amount on my behalf and just give me a token. There are three people that have really helped my brand to grow. They are Basketmouth, Ali Baba and the biggest of them, Basorge Tariah Junior, who actually taught me how to impress big brands, how to anchor A-class events and be on their pay roll. Basorge was one man that really believed in me. Ali Baba saw the talent and said: "Young man, you are too talented to be trekking" and gave me a car and also introduced me to some big companies. When Basketmouth saw me, he realised that I was very funny and introduced me to about three other comedians. But one thing about Basketmouth is that no matter how close you are to him, if he meets another person that is better than you, he might just keep you aside and handle that fellow. For you to be with Basketmouth, you must be on your toes at all times, nobody must be better than you.
Before you started comedy professionally, what were you doing?
I came to Lagos from Abraka in 1999 after my secondary school where I failed woefully… (laughs). It was my elder sister and her husband that brought me to Lagos and insisted that I must further my education. So they registered me for a GCE class. After I finished the exams, the idea of comedy came to my mind, but since the result had not been released, my sister's husband didn't want me to do comedy. He said my WAEC examination result was too poor and so there is no room for me to be engaged in other things. But fortunately, the GCE result came out and was so good. Yet, he didn't want me to be engage in other things. As at that time, I was already getting small comedy jobs. I was later employed at Lekki Beach as a stand-up comedian for their DTD Show. It was in the same period I got admission to LASU for my OND in International Refugee Studies. It was then a new course introduced by the United Nations in UNILAG and LASU. Because my sister's husband didn't want me to do comedy, I moved out of the house and started doing campus gigs and all that.
Do we say comedy came to you by accident or it was something you had envisaged to do from childhood?
I don't really know how to answer this question because I used to be a story teller in my primary school.  At times when teachers were not teaching us, I will just go to the board and write "story time." So people will start coming to tell different stories but I was always the last person to tell my own story. I always told funny stories about tortoise and all that. When I was in secondary school, I was doing some small gigs. I think it was right inside of me then, but I never knew there was a profession called comedy. I didn't know it was something you can actually make money from, though people treated me well when I performed at their birthdays and all that. When I came to Lagos, I watched Basketmouth and Ali Baba on TV and told a friend I could do what they were doing, having done something of that sort in my secondary school. My first professional show was in Lekki and I was paid N500.
If not comedy, what would you have been doing?
Sincerely speaking, I would have been a business man.
What kind of business?
Before I eventually left my sister's house to face comedy professionally, I had planned to go into car wash business. And beside the car wash, I will also do laundry services. I also intended to build a hotel. Those were the three things I had in mind.
But did you have the capital?
No, there was no capital then. I actually wanted to start with the car wash service. I had already visited about four motor parks. I had also informed some hotels that I can be washing cars for them. I almost started it when I became close to Basketmouth, Ali Baba and then Basorge.
In 2002, when you started comedy, we had just a hand full comedians in the industry, but now, they are in thousands. What challenge does that pose to you?
I think it was in 2005 that a lot of people started coming into the comedy sector. But after I started in 2002, I was in school till 2008, so I didn't have much time to do most things like I am doing now. For that period, I was quiet. But for me, I don't see the influx of comedians as a challenge.
What about the issue of joke theft among you guys?
It is very painful, it is annoying. My heart breaks each time I see a young man dressed in suits and tells people he is a comedian, and the next thing, he is saying your jokes, even right in front of you. He would even tell you he is the original owner of the joke. The problem is that most of them don't do research, they just depend on jokes given to them by neighbours and what have you. This is happening because we don't have an association. We came into the industry for the passion we have for it, but most young boys these days come into the business because of the money. Firstly, they don't have the original ability to generate humour, but because they have interest in comedy, they will develop what I call delivery. Anybody can deliver a joke, in as much as he/she has flair for comedy. But if you don't have the in-born talent, it will be difficult for you to generate a joke.
How did you come about the name De-Don?
Don is actually my real name. My surname is Iruvee, Okeremute is my native name, while Don is my English name. When I came into the industry, I decided to use my real name, but we had a lot of people bearing Don then. There is Don Chichi, Don White, Don Emmanuel and Emeka McDon. I wanted to be different so I added 'De' to my own Don.
What is your background?
De-Don is from Agbaroto, Delta State. I was born into a family of 10 and the 9th child. I'm a graduate of Lagos State University, Ojo. I have an extremely humble background.
Comedians make a lot of jokes about Warri. What is your take on this?
The funny thing is that 99 percent of the comedians you see today have humble background because when comedy business started in those days, you couldn't find a wealthy man's son doing it. It was a venture for less privileged people then. Back in those days, I used to hawk pap. I also hawked bread, fish, palm oil, okra…
Only you?
It depends on the season. I hawked anything that was selling more. When I came to Lagos in 1999, I was selling Kunu. But thank God for the talent and people like Basorge and Ali Baba who actually made comedy to be a profession. When I was selling Kunu those days in Shasha, Egbeda area of Lagos, people usually sit down with the aim of listening to my jokes. Somebody would buy just one bottle of Kunu and sit down for two hours.
What are you working on now?
I am working on having Comedy Happy Hour with De-Don on TV. I'm also working on the launch of Ochuko, a small boy character that I play on my radio show on Tuesdays and Thursdays. I have a compilation of it, so it will be launched on a CD soon. These are the two projects I am working on for now.
—Bayo Adetu
Load more