The mother of Nigeria's famous entertainer, Steve 'Yaw' Onu, has affirmed on this week's edition of the popular reality television show, Supermom, the celebrity edition that she was once imprisoned because of his son, Yaw.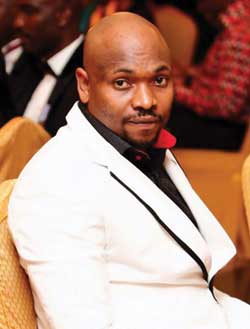 Yaw, a renowned on-air-personality actor and comedian, rose to fame on the TV comedy drama, Flatmates, with his humorous character, which kept people glued to their television sets every Saturday. The seventh of 10 children, who hails from Awka, Anambra State, has now metamorphosed into a sought-after entertainer and was recently selected as one of Nigeria's Olympic torch bearers.
But his road to success was not smooth. According to Yaw's mum, whose turn it is to share her story on the popular show which airs on major terrestrial television stations in Nigeria, it was indeed very hard feeding  10 mouths and having to pay rent in their squalid apartment in Lawanson, Surulere, Lagos. "Whenever the rains came, it fell directly on us because the roof was leaking." A trader of "okrika"(hand me down, second hand clothes) in Yaba market, the 62-year old woman recalls that she had to take to petty trading to complement her husband's salary. She said she also ensured that Yaw and his siblings hawked cold drinks and "pure water".
"She would tell me she was teaching me business instead of her to just say she wanted me to help her out in the market," Yaw jokingly said. One day, while hawking in Aswani Market, Lagos, she was arrested by town council officials and locked up. "I go prison oh because I dey train children. That day, my children no see me," she said in pidgin English. Because she could not bail herself, a good Nigerian did. The family also suffered another adversity when the matriarch was involved in a tragic accident in a "molue" going to Iyana-Ipaja from Maryland which had brake failure and somersaulted. Mrs. Onu who was standing in the bus had minor injuries. She became unconscious and was taken for dead.
"I was taken with the other corpses to the mortuary. It took a man who came to see if he could identify the casualties to see that I was still alive," she said.
Ironically, when her children came visiting, the youngest of them said: "Mama, we never chop o", even before asking how she was faring. Despite her initial objection to Yaw's choice of career, she now prefers to be called Mama Steve because he had brought her suffering to an end.
"My children made it; thank God I did not suffer in vain," she said