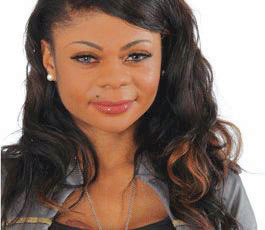 Entertainment personality and co-winner of the sixth season of Africa's biggest reality competition "Big Brother Africa" 2011, Karen Igho, has been unveiled as the newest addition to fast rising Lagos indigenous radio station, NAIJA fm 102.7!
The move signifies Karen's debut as a radio personality, and her boisterous and outspoken nature promises to be an experience for listeners on radio.
Karen joins a talented team of radio hosts at NAIJA fm 102.7, a 24-hour Nigerian radio station, with all programming content and delivery being in Nigerian languages, and Pidgin English, which has succeeded in bringing information, fun and entertainment into the lives and homes of every Nigerian.
Speaking on the development, an excited Karen graciously expressed joy and gratitude for the opportunity. While urging fans in advance to tolerate her blunt nature, she promised to give her best, admitting that she is new on the job.
"You know I'm not a presenter but I'm going to do my best. I'm also going to put in my best for people to enjoy and l hope listeners would enjoy the show!"
Also, Karen, who turned a year older on April 6, added that she hopes that the job would be easy, as speaking pidgin English is fun to her.
Karen speaks Hausa, Urhobo and English fluently.
Load more