We are in the middle of the cold season but that does not mean we can't stay warm and fashionable. The key to remaining fashionable this season is to master the art of layering (wearing more than one cloth to provide warmth). And if you are not a fan of layers, you can still stay warm and look chic without bulking up.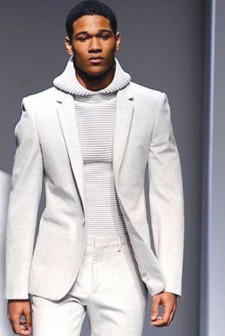 To look smoking hot, you can experiment with more than two cloths and still get the chic effect. But the big deal now is how to create fashionable ensemble to stay warm instead of looking bulky or  like a fashion disaster.
Before You Wear Layers
•Consider the  colours and fabrics of your clothes and avoid using too many layers.
•Stick with colours in the same colour group when you dress in layers. Dark colours and neutrals work best for most people.
•Choose fabrics that are light and breathable. Bulky multiple layers of cotton and wool will just make you sweat all day long.
•You can mix different fabrics together but don't mix patterns. It doesn't always work.
•Balance your figure when you wear layers. For instance,  for women, a wide skirt or pants should be offset with form fitting tops and sweaters, while snug pants should be accompanied with oversized or free flowing tops.
•You can wear a short military inspired blazer over a simple top or a waistcoat/vest over a white shirt. If you're wearing something chunky as a top, choose something slim and fitting for bottom.
•Scarves are an essential item when wanting to achieve the smoking hot layered look and a  wide belt over your layers   can provide feminine allure.
If you're going for a polished and professional look layer a cardigan over a fitted top. And if you don't fancy layering, invest in cashmere.
Cashmere is luxurious and warm without being bulky.  Look for cashmere cardigans, turtlenecks and pullover sweaters.
Wear clothes that fit. Instead of an oversized coat, jacket and baggy pants, buy a coat that fits well or won't create bulges that will make you look heavy.
Load more