By Okafor Ofiebor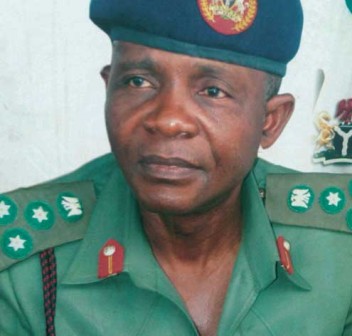 Sylvester K. Iruh,a retired Brigadier-General of the Army was on Saturday July 7, killed at the popular Berger Bridge on the outskirts of Lagos by those suspected to be hoodlums as he attempted to attend to his car.
He was said to be returning from Ilorin when his car had a flat tyre.
An Eyewitness and a close member of the family of the slain Army General told P.M.NEWS exclusively on phone this morning that the Army General and a devout Baptist was returning from a burial ceremony of a member of his church when the incident happened at about 7pm.
According to the account,Brig-General Sylvester K.Iruh,suddenly had a flat as he approached the Long Berger Bridge near the cattle market. As he attempted to attend with the help of three of his church members in the vehicle, he was alerted by a concerned motorist,an owner of a towing van who plies the road regularly to quickly hop into his car and leave the area as it is a "black spot", a notorious den of Hausa/Fulani criminal gangs who rob,stab,and kill their victims in cold blood" .
The witness further narrated that on getting the alert from concerned motorists,the retired Army General who hails from. Boji-Boji Owa,near Agbor,in Ika North-East of Delta State,and retired in January 2009,immediately asked other occupants hop into the car so the manage the faulty car out of the"danger zone."
But before they could drive off, the hoodlums suddenly jumped out of the bush with daggers,bows,arrows and other dangerous weapons demanding money, which the General offered to give to them.
Confirming the incident to PMNEWS on phone the wife of the slain General, Mrs Iruh said;"please help me tell both the President Goodluck Jonathan, federal government and Governor of Lagos state government, Babatunde Fashola, and security agencies to clear the place so that more innocent women would not be made young widows.
On that same day,an Okada man was also stabbed and his ear chopped off and rushed to a Emergency and Accident hospital at 7UP,lagos where my husband was rushed to".
"They have made me an unexpected young widow. Government should move into the cattle market by the long Berger bridge and save the lives of innocent Nigerians",Mrs Iruh lamented.
Brig-General Iruh served in his last posting as Commandant Army Records,Lokoja until he was retired along with 11 Genarals and 94 other officers in 2009.

Load more