Ghana's Ignatius Gaisah is confident about his chances going into London 2012 after clocking seasons best of 8.04 meters at the just ended Ghana International Grand Prix meet in Kumasi at the weekend.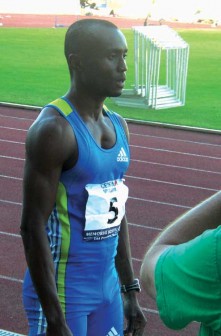 Gaisah who came third at the recently held African Athletics Championship event in Porto Novo, Benni has been bogged by injuries over the years but is confident that he can add to his medal laurels and become the first Ghanaian to win a medal in the Tracks & Field at the Olympics.
"This leap would certainly add to my confidence. After my first attempt, I felt pretty good and that clearly got me thinking big. I am of the view that I could have even done a lot better than I did at the Ghana Grand Prix  and with the Olympics coming up in just about three weeks, my confidence is really up there," he told Ghanaweb.com.
He added that he was sure of winning a medal for Ghana as his Jump would fall into the bracket of the best jumps this year.
"Most of my competitors have jumped just about what I did today thus I don't see why I can't beat them to it in London. If I am able to hold my nerve and give it my all on the day of the competition, you never know how things could pan out.
"I am not promising anything but I am confident about my chances and hope to make Ghana proud."
Gaisah is one of four athletes including Vida Anim, Margaret Simpson and Abdul Aziz Zakari to have qualified for the track and field events in London.
He has won medals at the African, World and Commonwealth Games but is yet to win a medal at the Olympics.

Load more