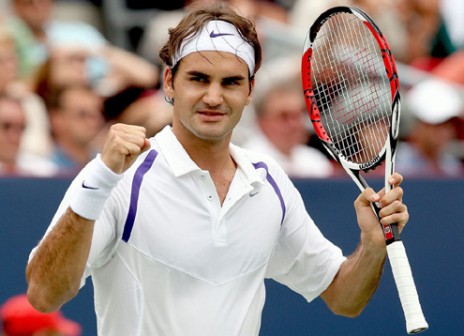 The morning after Swiss maestro, Roger Federer, won a record-tying seventh Wimbledon championship, he returned to the site of his latest triumph to conduct interviews in various languages and, while there, ran into All England Club Chairman, Philip Brook.
They exchanged pleasantries today and before parting ways, Brook said: "I'll see you in a few weeks."
"I'll check in with you when I get back," Federer replied with a grin.
In this rather unusual season, the green grass that Federer knows so well is the scene of two significant events: Wimbledon, which ended Sunday, and the London Olympics tennis competition, which begins 28 July.
"I do believe my situation has got that little star next to it. I am now the Wimbledon champion, and I think that gives me even more confidence coming to the Olympics," Federer explained.
"And maybe in some ways, it maybe takes some 'pressure,'" he said, uncrossing his arms to make air quotes with his fingers, "off the Olympics, because I already did win at Wimbledon this year.
"So that's a good thing for me, because of course there is a lot of hype around me playing at the Olympics this year." This is about winning, not participating.

Load more