Former skipper of Nigeria's Super Eagles, Austin 'Jay Jay' Okocha, has charged Nigeria Football Federation, NFF, to honour the country's present and past heroes when they are alive and not when are dead.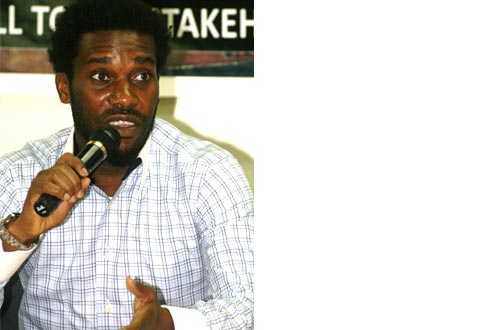 Speaking at the media briefing for the Pitch Award to be organised by NFF and the Match Makers on 15 December, Okocha said he was glad about the award but wants the authorities to honour Nigerian players in their lifetime.
"For me, I will like the country to honour me when I'm alive instead of giving me an honour when I'm dead," said the former captain of Bolton Wanderers of England.
Okocha said he believes that Nigeria should honour him and other football heroes in their lifetime as this would encourage the players to commit themselves to national duties.
Meanwhile, the rebuilding of the Super Eagles by Coach Stephen Keshi received applause from Okocha, who said that a blend of the domestic and foreign-based players is a positive path to success.
"Well, I think it's the way forward because the professionals started back home before venturing abroad to become professionals.
"I think the coach should always play his best players in every game," he said.
He warned that Keshi should not shut out John Mikel Obi, one of the nation's best players in the race for South Africa 2013 showpiece.
"I think we're looking at improving with every game and bringing Mikel back, of course, is a plus for us.
"Mikel is about one of our best players, no matter what we think about it, we still need him.
"He is an important player, I think it's a good goal to have him," said Okocha.

Load more