A former IICC (now 3SC) player, now a coach, Idowu Tubuse, a.k.a Slow Poison, recalls the days of Samuel Ojebode at the Ibadan club, and other issues
Many of Samuel Ojebode's friends are just coming to visit his family after he is no more, why?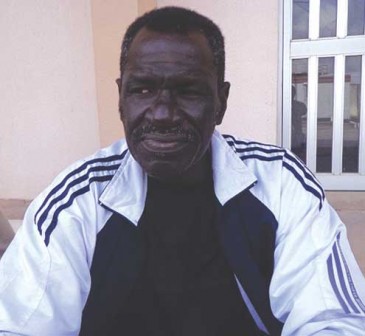 We should not forget that most of his mates and colleagues are dead. If not then over 50 per cent have died. The few friends who are alive are not in Ibadan. Most of them are living abroad or far places. But some of us who are here have paid the family condolence visits.
What is the most memorable thing that happened between you and Ojebode that you can't forget?
It happened when I joined Shooting Stars in 1974. Then, they were not giving me the opportunities to feature in matches because they were not sure of my performance. At the same time, the club officials didn't want to risk anything. At a point, there was a friendly match and a player who was supposed to feature had his off day and they had to replace him. So, they were forced to use me. I did my best. Before I entered the field, the other clubs had scored 2 goals against us. But when I entered, we equalised. At the end of the match, Ojebode came to hug me saying that I played very well. He said that I have to continue to play. I was so happy because what Ojebode did only told me that he was a captain who appreciated who plays well. He was a person who appreciated people for what they do. That really encouraged me and it made me to establish myself with the club.
What came to your mind when you heard that Ojebode had passed on?
I felt so bad but there is nothing one can do. He has gone to rest and all we need to do is to pray for him that he should rest in peace. We have lost a great man.
How else could you describe him?
He was a humble and hardworking man who did not want to hear anything about failure. He was friendly and appreciative as I said earlier. He did something for me that I will never forget. It is personal so I will not mention it. But let me say this, if you go to anybody for assistance and the person denies it, believe me there is someone somewhere whom God has prepared to do it for you. Somebody will definitely do it for you. I went to Ojebode when he was the chairman of Shooting Stars for help and he did it immediately.
How do you feel about the recent frequent death of footballers?
It is very shocking to me. Within three months, we have lost three ex-players who were stars: Rasheed Yekini, Joe Appiah and Ojebode. The unfortunate thing is that the death is centred on a club, Shooting Stars. Why is it so? That's why I am calling on people to pray for us. We are now reaching old age. They should pray for us and football authority should take care of us when we are alive.
How best do you think footballers who have served this nation could be immotalised?
There are lots of things that can be done and the simplest of all of them is to name  structures and sporting arenas after them. They could even name a block after any player. They can name a street or road after a player. Look at Mudashiru Lawal Stadium in Abeokuta. It is there forever. Liberty road could be named after a footballer. They can name a place after Ojebode. They can even name leagues after footballers and the leagues will be competed for yearly.
Fatai Atere is still alive but Lagos State named a road after him in Lagos. So many people have served the nation and we are not hearing about them again.

Load more