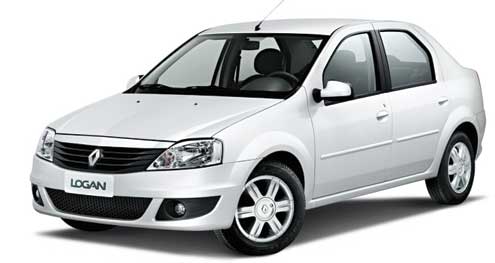 The Renault Logan is existing proof that large, stylish and technologically advanced cars don't necessarily have to be overpriced.
The sophisticated angles and elegant lines give the Renault Logan an air of exclusivity that some more expensive vehicle brands wish they could achieve. However, while the Logan car is intensely stylish, its designers didn't forgo function in favour of form.
Meticulously built to the Renault brand's renowned high standards, the Logan is durable and reliable. With correct care and maintenance, your new Renault will last you for many years, even if you drive it frequently.
This Renault sedan is ideal for business people who want to complement their sophisticated personality and drivers with families because of its balance between elegant aesthetics and spacious practicality. Moreover, its superior economy makes it cost effective to run when driving through heavy city traffic on a regular basis.
Whether you are sitting inside a Logan or are viewing it from the outside, it is clear that this Renault has been refined to meet visual and comfort requirements that are expected from a Renault car.
All controls are ergonomically designed to make drivers feel as if the Logan car is an extension of themselves. With relatively small movements, the driver can control almost every aspect of the journey in a Logan Renault. While the external beauty and internal comfort are the first things a driver is likely to notice about the Logan, they are perfectly complemented by its powerful engine and superior safety features.
Renault places great emphasis on the safety of its customers (and their passengers) when travelling. Therefore, the Renault Logan 1.6 is equipped with an impressive selection of innovative and effective safety features. These include a collapsible steering column, height-adjustable seatbelts, Antilock Braking System (ABS) brakes with Electronic Brakeforce Distribution (EBD) and a driver's airbag.
When one thinks of a luxury sedan, one usually imagines it being attached to a hefty price tag. This is often the case; however, the Renault Logan bucks this trend by providing drivers with a sleek exterior, spacious interior, powerful engine and top-class accessories without the usual cost.
Alliance Autos is the authorized distributor of Renault and Nissan models in Nigeria.
Load more