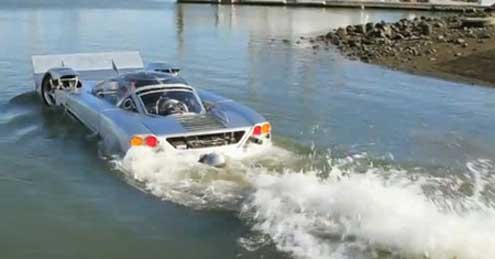 It reaches up to speeds of 290kmh on land and 72kmh in water. And at a bargain-basement price of US$295,500 (S$374,600) in the United States, the world's first amphibious sports car could be yours. For those who have always fantasized about driving on land and sea, this car is a dream come true.
Inventor Marc Witt spent six years turning his dream sports car into a sea-worthy vehicle and this brushed aluminum and stainless steel car-boat hybrid is finally up for sale at a California-based Fantasy Junction, where collector automobiles and vintage racing cars are sold.
Developed by a one-man operation, Sea Lion is powered by a 174-horsepower 13B rotary engine pulled from a 1974 Mazda RX3 and designed with a body which could function as a road-vehicle, yet also be waterproof when it hits the lakes or sea. When Witt first started building the car, he aimed to reach 96kmh, which is now the water-record speed set by an amphibious car among competitors, although there is no official body to rule on this.
With a flick of a switch, the car automatically converts itself from being road-worthy to sea-worthy. The front wheels are hydraulically moved into wheel wells once the car ventures into water with a massive spoiler in front to split through the waves. However, the Sea Lion is a single-seater, so you can't bring friends on a spin in water.

Load more