Portsmouth are reeling after being hit by a new 10-point deduction and the threat of legal action from one of their own players, former Super Eagles' skipper, Nwankwo Kanu.
It is the third time in four seasons Pompey,   £52million in debt, have been stripped of points.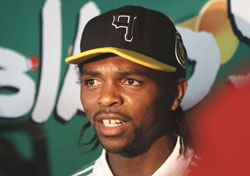 To add to their woes, club legend, Kanu, 35, is planning to sue the 2008 FA Cup winners for six years of unpaid earnings in a "breach of contract" dispute. The Nigerian claimed the League One outfit owe him millions.
Pompey's administrators are keen to get Kanu's £300,000-a-year deal off the wage bill, and they believed they had found a way through breach of contract when the striker failed to report for pre-season on Monday.
Kanu's agent Samuel Okoronkwo said: "We are claiming Kanu is owed millions.
"It is they who have breached the contract by not fulfilling contractual obligations. Until now, he was prepared to wait.
"We will be pressing our claim through the Football League."
Kanu, who scored Pompey's Cup Final winner against Cardiff but has not netted since October, is said to be in Nigeria coaching.
Pompey administrator, Trevor Birch, has blasted the points penalty.
He said: "I think most people would agree the deduction imposed last season was sufficient, particularly as it played a huge part in the club's relegation to League One."

Load more