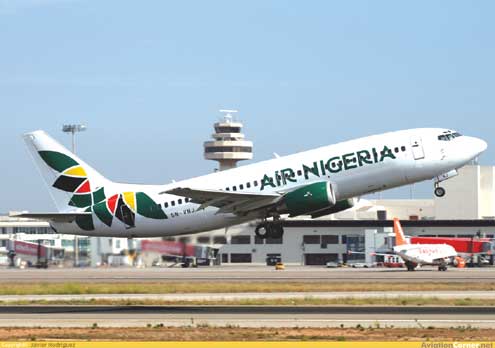 After repositioning towards routes expansion, Air Nigeria faces an unexpected major crisis
Just as Air Nigeria began to bask in the glory of a turnaround process that had stabilised its domestic operations, with the plus of embarking on international operations (from Lagos to London), about six weeks ago, it suddenly began spinning into crisis. Presently, the airline's domestic and regional operations have been suspended, courtesy of allegations of improper business practices.
The Nigeria Civil Aviation Authority, NCAA, has already suspended the airline's domestic operations, pending resolutions of the numerous challenges confronting it. Before the suspension, the airline was entangled in protests from members of its staff, under the aegis of the National Association of Airlines Pilots and Engineers, NAAPE, on alleged deduction from salaries of workers. The NCAA's move against the airline's domestic operations was also premised on the claim by the airline's engineers that it was operating unserviceable aircraft. At the same period, Air Nigeria workers did not get their salaries on time for that month. Eventually, they went on strike. The situation was further worsened by allegations that the airline was guilty of tax evasion and was also battling with financial crisis, owing the United Bank for Africa, UBA, as much as N35.5 billion.
Last month (June), the Federal Inland Revenue Service, FIRS, went after its Managing Director, Kinfe Kahssaye, on grounds of an alleged failure of the airline to remit taxes totalling N4.86 billion into the federal government coffers. A former employee of Air Nigeria, John Nnoron, also delivered another blow to its image when he warned Nigerians to steer clear of the airline, alleging its deficient maintenance culture.
Kahssaye agreed that the company had tax liabilities to settle, but pleaded for more time and a flexible option for payment. He posited that the airline should be given time to settle the liabilities and also comply with the appropriate legislation in terms of filing tax returns. He, however, argued that there were questions concerning the airline's failure to file tax returns, while also failing to pay the outstanding tax liabilities. As Chief Jimoh Ibrahim, the company's chairman, further explained, the tax liabilities were not a direct flaw of the airline's present management but accumulations by Virgin Nigeria, its previous owners.
Nnorom also passed information to Nigeria's House of Representatives, stating that Ibrahim invested nothing, in actual terms, on the airline. "What UBA did was to grant him loan amounting to N35.5 billion that is the equal to the amount being owed by the old Virgin Nigerian Ltd, with three properties whose values were less than N15 billion as collateral. The properties are 159/160 Broad Street, Lagos; the Nigeria Reinsurance Corporate Head Office building at Marina Street, Lagos and NICON Insurance Corporate Head Office building in Abuja. The actual market value of these properties at that time was about N15 billion, but Jimoh presented a forged valuation report to UBA worth N75 billion," he said.
Ibrahim considered Nnorom's allegations as fabrications from a disgruntled mind. He dismissed the words of Nnorom, who is facing criminal charges on account of stealing from Air Nigeria, as amounting to nothing since he is an accused who, he said, stole the company blind. "This is someone who stole our $300,000 and then he returned $200,000. We then asked him where the rest is, and he started dodging, then we dismissed him and reported his case to the Inspector-General of Police. He is facing criminal charges. How can such a person give anyone credible evidence?" Ibrahim wondered.
Air Nigeria was acquired by the NICON Group in April 2010, with a new board of directors, chaired by Jimoh Ibrahim. Virgin Nigeria, its forerunner, was officially unveiled six years earlier, in September 2004, by former president, Olusegun Obasanjo. The airline, established with a $50 million start-up cost, was backed by Virgin Atlantic, owed by Richard Branson, as its strategic and technical partner. But it soon ran into operational and financial troubles and unable to continue any further, sought for new buyers. That was when Ibrahim, a proven turnaround expert, stepped in to acquire it, renaming it Air Nigeria.
-TheNEWS Magazine

Load more