Phillips Idowu has employed his own medical team to help get him fit for the Olympics, Sportsmail has learnt.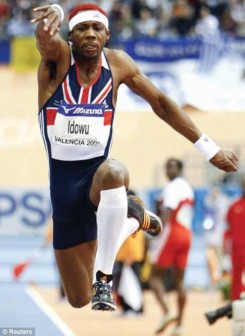 The triple jumper has stepped outside the support structure offered by UK Athletics, a move that apparently reveals the extent of his injury concerns and the breakdown in relations with his head coach Charles van Commenee.
A well-placed source confirmed: 'Phillips is working with his own physios, not  the UKA set-up.' Idowu, 33, has not competed since June 1, having pulled out of his final planned warm-up competition, at Crystal Palace on Saturday, with tightness in the oblique muscle leading to his left hip.
His participation at the Olympics must be in doubt given that his first jump is scheduled for August 6.
The latest setback revives suspicions that Idowu has in fact been fighting injury, which contradicts the impression he gave reporters last week. Then, he dismissed talk of fitness problems as the 'rumour mill'.
His insistence that he had always been fit contradicted UKA head coach Van Commenee, who a week earlier admitted he was concerned about Idowu's Olympic prognosis.
The hard-line Van Commenee and the enigmatic Idowu do not speak after a public row last year.

Load more