David James, one of the most durable footballers of his generation, can point to some impressive numbers when summing up a career that continues to this day. Three FIFA World Cup tournaments, the last of which South Africa 2010 he embarked upon as England No1, almost 1,000 games as a professional, and 42 years of age, the birthday he will be celebrating at the start of next season, are just some examples.
In addition, James is knowledgeable and articulate about the game, and these were traits that enabled him to successfully make a temporary transition to the television studio as a pundit during the recent UEFA EURO 2012.James spoke to FIFA.com on issues relating to his nation's performances at the event, the current state of goalkeeping worldwide, and the possibility of an extension to his long and varied club career in the English leagues.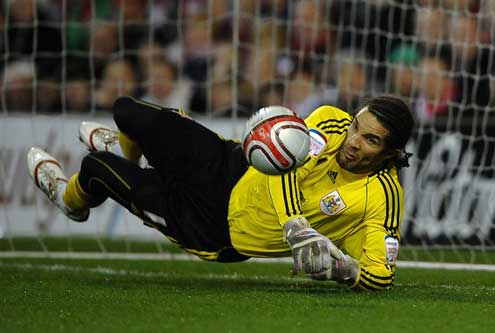 David James, how did you feel England did overall at EURO 2012?
I thought England did pretty well. They got a good draw against the French, who'd come into the game on a 20-odd match unbeaten run. After an important win over Sweden, they then beat Ukraine, an achievement that shouldn't be understated, because it's never easy to book your ticket for the next round against the host nation. After that, getting knocked out by Italy in the quarter-finals is not a disgrace.
You pulled on your country's jersey for more than a decade. Do you feel that the England players are put under too much pressure from the media and fans?
I think so. As a player, when a fan or reporter asks you, "Do you think you can win it?", saying "no" is simply not an option, because the entire nation believes that you can. Before the start of the tournament, Steven Gerrard was asked if he would be happy with a draw against France, and when he said "yes", everyone acted surprised. For me, it was an honest answer, and that's how it should be, in my opinion.
Do you think Joe Hart enjoyed his first experience at a major tournament as the team's undisputed No1? As a fellow goalkeeper, you are better placed than anyone to answer that question…
He loved it. We exchanged a few text messages, and I know that he really enjoyed himself. At the last World Cup, having seen him at close quarters in training and during friendly matches, I was sure that he had the quality to play at that level. When I was told that I wasn't going to start the first game, my first thought was that it was Joe who would be picked. In the end, Fabio Capello went for Robert Green and the rest is history, but he's certainly shown how talented he is for quite some time now.
In addition, he is also a relatively young keeper, by international standards.
I don't believe that age is really a factor. In my case, I made my England debut at the age of 27 and didn't play a competitive match until I was 31, which is pretty late. But I was competing with a living legend in the shape of David Seaman, and it was very tough to dislodge him from the side. Joe is 25 and has already earned more than 20 caps. He's in a very good position; the fans love him and regard him as the best goalkeeper in England by far.
Do you think that England's goalkeeping situation is now settled, then?
As I see it, the fact that Joe lacks competition is a bit of an issue. Goalkeeper is a unique position in that, if you're not injured or experience a huge drop in form, it's unusual for you to be replaced. Because of that, you need someone to keep pushing you so that you can maintain your fitness and your mindset. At the moment, clearly he's the best, but within three or four years, if a new keeper doesn't emerge to challenge him, it could become a bit of a problem. I have confidence in Jack Butland, though, who was England's third-choice keeper at EURO 2012. I don't think it'll be long before he starts to knock on the door of the national side.
Who do you consider to be the top goalkeeper in the world?
For years, Buffon was my favourite, but now it's Joe Hart. I think that Gianluigi is still an extraordinary goalie, but he's had a lot of injuries and that has caused his level to drop somewhat. He's also not got much competition in Italy. It's the same thing with Iker Casillas, he's won all there is to win, and now people have stopped asking if he's still the top keeper out there. Victor Valdes and Pepe Reina are both great, but as they never get to play for Spain, it's impossible to judge if they're up to it or not. I'm not in any way saying that Iker hasn't been playing well, on the contrary. A World Cup and European Championship winner, with over 130 caps and that's impressive stuff. But what I mean is that it's difficult to set the criteria by which you decide who the world's best keeper currently is.
Do you really feel that Joe Hart has been the best in Europe lately?
I watch a lot of European football, and I can't think of a keeper who's impressed me more. For example, Casillas has amazing reflexes, but he has trouble with crosses and he's average with the ball at his feet. Buffon is excellent at stopping mid-range shots and at positioning himself, but his kicking game is not what it should be. Joe, meanwhile, is good at all these things, which makes him the most complete keeper playing at present.
You're still playing as you approach your 42nd birthday. Can you tell us a little bit about what the future might hold for you?
I ended this past season with Bristol City and I'd like to play another year. I'm in the process of applying for my UEFA 'A' coaching licence, so that's where I see my future, but I'm not quite ready to hang up my gloves yet.

Load more