Agege Stadium, Lagos will this afternoon play host to a titanic clash involving two clubs, Kano Pillars and Kwara United in one of the Round of 16 matches in the ongoing Federation Cup.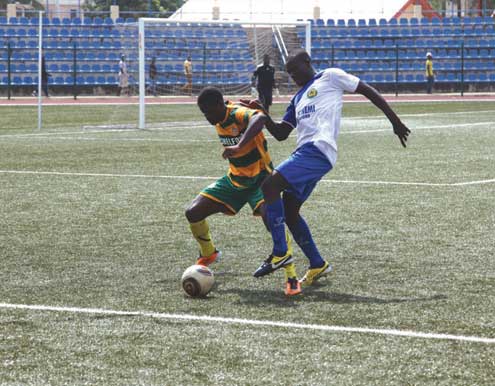 The tie has been described as a titanic clash because both teams will be playing for survival. Pillars were forced to a 1-1 draw in their first game against relegated Nigeria National League, NNL, side, Crown of Ogbomoso, while Kwara lost their first game to newly promoted Nigeria Premier League, NPL team, El Kanemi Warriors of Maiduguri.
If Kwara, who occupy the bottom place of the table must win to put them on a comfortable position, they need to convert all the chances they will get in the match unlike their clash against El Kanemi, where they created a lot of scoring chances but they failed to utilise them judiciously.
Pillars, who are having a point already, will also target a win because a draw or a loss will further dash their dreams of qualifying from the Lagos Zone.
However, Chief Coach of Kwara United Tunde Sanni admitted that his team would need luck if they must defeat Pillars because the loss suffered in the hands of El Kanemi on Monday was not fair enough.
"We played better than our opponents, we created scoring chances but I didn't know what went wrong. I pray that my players raise their game against Pillars on Wednesday," he said.
Corroborating his coach, Kwara United's striker, Anthony Okemmiri said his side will not lose out in the Federation Cup campaign from Lagos Zone.
Okemmiri said that his side will bounce back to their winning ways. "It's not over for us; we'll surely win our second game and take firm control of the group.
"Luck was against us in our first match. Despite playing one man short, we put in our best to equalise, but it didn't work out.
"Football could be funny and cruel at times; we'll erase the defeat from our mind and focus on the next game.
"El-Kanemi are a good side. They were once in the Premier League and just gained promotion back to the elite division.
"They are no pushovers, I give it to them they're the better side in our first match," he said.
—Adebobola Alawode

Load more