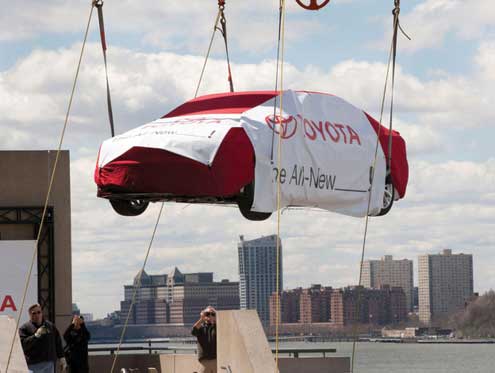 Toyota's quarterly profit more than quadrupled to 121 billion yen ($1.5 billion), and the automaker gave upbeat forecasts as it recovers from a sales plunge caused by the tsunami in Japan last year.
Japan's No. 1 automaker forecast Wednesday that profit for its business year ending March 2013 would soar to 760 billion yen ($9.6 billion). Net profit plunged 30 per cent to 283.6 billion yen ($3.6 billion) for the just ended business year.
The annual results were better than the company's projection for a 200 billion yen ($2.5 billion) profit, as well as the FactSet estimate at 279 billion yen ($3.48 billion). That, along with the jump in profit for the January-March quarter, is a sign of a turnaround from last year's tsunami that hobbled Toyota production around the world. Toyota's profit for January-March the previous year had been dismal at 25.4 billion yen because of the damage from an earthquake and tsunami that hit 11 March, 2011. Flooding in Thailand, which disrupted supplies, added to the decline.
Toyota, which makes the Prius hybrid, Camry sedan and Lexus luxury models, said its vehicle sales grew in Japan, Europe and Africa, but not in North America. However, it is regaining market share there. The automaker expects to sell 8.7 million vehicles this business year, 1.3 million more vehicles than the nearly 7.4 million vehicles sold for the year ended March.
Toyota faces an increasingly powerful Hyundai Motor Co., a resurgent General Motors Co. and Volkswagen AG, who all remain hard to beat in key growth markets such as China. Toyota's sales for the business year ended 31 March totalled 18.58 trillion yen ($234 billion), down two per cent. January-March sales rebounded to 5.7 trillion yen ($71.8 billion), up 23 per cent from 4.6 trillion yen a year earlier. The comeback at Toyota is playing out at other Japanese automakers.

Load more