It seems the marriage of gospel singer, Mrs Wunmi Awoniyi, a.k.a Omo Emi, has crashed irredeemably as her husband, Prophet Samuel Awoniyi has filed a divorce suit before the Orile Agege Grade 'B' Customary Court in Lagos.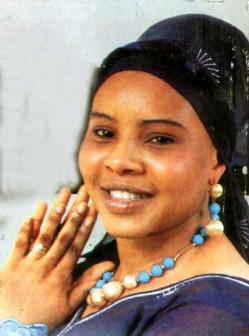 He is seeking the dissolution of the marriage on the ground of  her alleged shameful acts.
The court has fixed 2 August, 2012 for hearing and determination of the matter.
The action was first mentioned on 22 June, 2012. But Wunmi, who became famous because of her popular record, "Gbogo Mi Fun Mi" has never appeared in court even though she was reportedly served the summons at her parents' home in Akure, the Ondo State capital and another was despatched to her by courier, a week later.
The court bailiff testified that she had been served twice but she has failed to appear in court since the suit was instituted.
Speaking during the last sitting on Tuesday, Wunmi's husband, Prophet Samuel Awoniyi prayed the court to restrain the gospel singer from parading herself as Mrs. Awoniyi henceforth.
"Wunmi had since November 10, 2010 packed out of her matrimonial home and has since been engaging herself in many shameful acts which the Awonoyi family is not known for.
"She even went about duping people with my name. Awoniyi is a popular and respected Christian family in Nigeria. Wunmi has decided not to marry me again because according to her I am not rich and she has found richer men. So why must she continue to bear my name, let her go back to her father,"  Awoniyi complained.
Awoniyi has prayed the court for dissolution of his marriage to Wunmi and to have access to the only child of the marriage, Michael.
The court president, J. O. Adewusi said the case has suffered several adjournments because the court wanted to observe due process.
He adjourned the matter till 2 August, 2012 for hearing and ordered the bailiff to serve fresh hearing notice on the respondent.
—Moyo Fabiyi

Load more