The long reign of Chief Tony Anenih as the heavyweight champion of Edo politics ends in ignominy, as his protege is defeated in dismissive fashion in the recent governorship election  
On the night of the 14 July governorship election in Edo State, events at the State House, Benin City, bore close resemblance to what happened in the Situation Room of America's White House on 2 May 2011. That day, US President, Barack Obama, was watching live the raid on Osama bin Laden's compound in Abbottabad, Pakistan. Bin Laden, the former head of the Islamist militant group al-Qaeda and the mastermind of  the 11 September 2001 attacks on the World Trade Centre in New York and other targets, was, through what was code-named Operation Neptune Spear, killed by US Navy SEALS.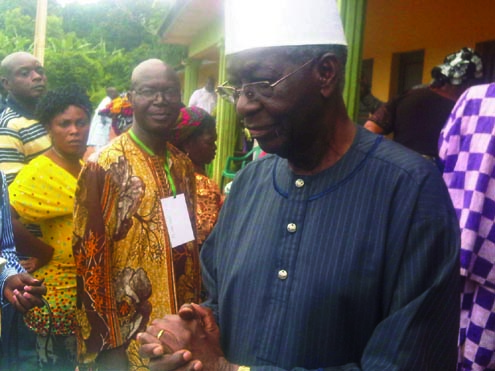 Oshiomhole was, however, not watching on live television, the capture and the murder of a terrorist, but the destruction of another bogeyman, Chief Anthony Akhakon Anenih, the Peoples Democratic Party top cheese. Known in political lore as Mr. Fix It, Anenih was not snuffed out in a military operation, but via the votes of the people of Edo State. The undertaker was Professor Osayuike Oshodin, the Vice-Chancellor of the University of Benin who served as the Independent National Electoral Commission, INEC, Returning Officer.
As the results, local government by local government, rolled off Oshodin's lips, the atmosphere in the Government House situation room was tense. Everyone present had a stomach filled with butterflies. It was similar to what made Obama describe his own experience as the "longest 40 minutes of my life".
But the mood in Government House, Benin was not a long winter at all. With each announced result, every eye watching the television in the room gleamed with joy. Even the elements smiled on the city that day, as there was no rain to disturb the election. Incumbent governor, Comrade Adams Oshiomhole did not watch the announcement of results from his official seat. Rather, he sat at a corner, his diminutive stature silhouetted against an oil on canvas artwork of a setting sun, sending a frightening light of yellowish red over some dark clouds.
Oshodin continued with his announcement and out of 18 local councils, as at 11.50 p.m on Saturday, Oshiomhole had cleared 14 with the grace of a combined harvester. Sensing that victory was within touching distance, Oshiomhole sprang to his feet, "did a jig and clinked his glass of fruit juice with the cups of red wine of those who were present". Then, two more local councils were announced and Oshio, as the governor is called affectionately by the Edo people, cleared them. The imminent rout prompted an elated activist present to declare it as another Benin massacre.
Unfettered jubilation and glass-clinking bonhomie took over. Oshiomhole poked fun at Louis Odion, his Information Commissioner, saying: "When next Chief Anenih threatens to deal with you, I will tell you how to reply." It was a reference to the old man's vitriol on Odion in February at the Oba of Benin's palace. That day, Anenih jabbed his retired cop's finger at the commissioner, threatening to deal with him.
Still on his feet, arms at akimbo, Oshiomhole felt like eating suya or any roasted meat and washing it down with heady wine. He ordered one of his aides to "go look for goat, ram or anything on four legs, kill and bring it here. I am the governor." He added: "Celebration has started, because with the direction of the election results, we will be victorious." Oshiomhole and all that were with him that night had every reason to rejoice about the way everything was turning out positively.
The following morning, Oshodin declared that Oshiomhole polled 477,478 votes against the 144,235 garnered by his major rival, PDP's Charles Airhiavbere. The other results he announced were All Nigeria Peoples Party, ANPP's Solomon Edebiri (3, 642 votes); Roland Izevbuwa of the Congress for Progressive Change, CPC, (2,793); Andrew Igwemoh of the Labour Party, LP, (604); Paul Orumwense of the National Conscience Party, NCP, (540); while Frank Onaivi Ukonga of the Social Democratic Mega Party, SDMP, scored 807. As Oshodin put it  1,651,099 million voters were registered in the state, while 647,698 voted. He added that the valid votes cast were 630,099 while a total of 17,599 votes were thrashed. In fact, Oshiomhole defeated Anenih, Airhiavbere, Ogbemudia and others in their bases.
On the streets of Benin, delirium ruled. Commercial motorcyclists, artisans, students, traders, and people from other walks of life trooped to the Government House. At a portion called the Platform, in the Government House, Oshiomhole addressed them, saying his "landslide victory, which was a true reflection of your wish, is an invitation to hard work". He added: "The lesson of this election is that Edo people have decided to reject politics of ethnicity. They have decided to reject politics of chop-chop. Edo can never be the same again. You are the best. You are the greatest. You are the strongest. God bless you all."  While thanking the people for standing on their feet, he vowed "on our feet, we shall fight for freedom; we shall never go on our knees."
Although it was a governorship election, people did not see it as such, as they waved PDP's Airhiavbere off as Anenih's mannequin. In other words, the line was actually in the sand between Oshiomhole and the Uromi chief, Anenih in what many considered a David/Goliath contest. While Anenih believed that, like Goliath, he towered above this shepherd boy, whose nose needed to be wiped by his mother, Oshiomhole, a pint-sized unionist-turned politician, was bold in his resolve to rout this morally uncircumcised Anenih. It was not the first time small men took on great challenges and sat on the front row seat of history. The likes of the biblical David, Napoleon Bonaparte of France, Ken Saro-Wiwa, the late leader of the Movement for the Survival of Ogoni People; Mahatma Gandhi of India, and the founder emperor of the Mongol empire, Genghis Khan spring to mind.
Anenih was accredited to vote at 10 a.m. at Uzenama Primary School Centre, Arue, Uromi, Etsako Northwest Local Government Area. He later voted at the same venue around 1.12 p.m. Anenih, who rode in a black G-wagon Mercedes Benz Sport Utility Vehicle, wore an ash-coloured buba and sokoto with a white cap. When he got out of his vehicle, voters stared at him. It was difficult to know if the people received him with awe or disdain (see photograph), but only a few of the villagers got close to him. When newsmen asked him about the election, Anenih said he was impressed about its conduct. When prodded further to predict the likely outcome or if he was sure his candidate would win, the old man reacted that it was too early in the day to do so, but would rather wait till reports from other senatorial districts came.
Born in Uzenema-Arue in Uromi on 4 August, 1933, he wrote his secondary school certificate examination from home, after which he joined the Nigeria Police in 1951 in Benin City. Apart from his training at the Police College in Ikeja, he had further trainings in the Bramshill Police College, Basingstoke, England in 1966 and the International Police Academy, Washington DC, in 1970. He was appointed a police orderly to Dr. Nnamdi Azikiwe, Governor-General of Nigeria. According to Wikipedia, he worked as an instructor in various police colleges and in 1975, was assigned to the Administrative Staff College, ASCON, Lagos. Anenih retired from the Police as an assistant commissioner.
He came into politics big time in 1981 as the state chairman of the National Party of Nigeria, NPN, a position he held till 1983, when he helped Dr. Samuel Ogbemudia to win the governorship election in the old Bendel State, against the incumbent Dr. Ambrose Alli of the defunct Unity Party of Nigeria. He was viewed as the arrowhead of the evil platoon that rigged Alli out of office. Although the military took over power, Anenih did not cease to operate like the head of the Sicilian Cosa Nostra. He determined who got what position under the General Ibrahim  Babangida military regime's zero-party election in an era when sole administrators held sway in local councils and elsewhere. In the words of Lucky Akhaine, Assistant Director, Centre For Constitutionalism and Demilitarisation, "Anenih became the rallying point for non-progressives." This is to say that it was through the old man that government began to be populated with different political scoundrels.
Whoever thought that Anenih would not behave true to type when he stayed in the camp of the progressives as the chairman of the Social Democratic Party, SDP, in the Third Republic was mistaken. He was charged with betraying his party by working to ensure the late MKO Abiola, winner of the 1993 presidential election, did not regain his mandate.
Then in 1999, Anenih played prominent roles in national politics. His influence went beyond Edo State and he was seen as the godfather of South-South politics. His overriding goal was that the zone would become and remain a PDP fortress. His influence was so much that his wife, Josephine, was women leader within the party. And in Edo State, whoever he wanted became the speaker of the state legislature.
Anenih was appointed Minister of Works and he later became Chairman of the Board of Trustees of the PDP. However, when Obasanjo left power in 2007, after his attempt to elongate his tenure failed, he elbowed Anenih aside as BoT chairman. That itself was not without some drama. Anenih had, on that day, fixed the BoT meeting for 8 p.m for the Kano Hall of Abuja's Transcorp Hilton Hotel, but Obasanjo changed it to 10 a.m, against the usual practice of holding it at night. So, between 12.30 p.m and 3 p.m, participants at the meeting pulled the rug from under Anenih's feet and Obasanjo successfully succeeded him as BoT chairman.
If he was driven from outside with his tail between his hindquarters, Anenih wanted to prove that he would never be idle or stay without influence. He scampered back to Edo, where he decided to hold his hand tight around the people's neck.
Those who wanted Anenih out of the political stage had reasons to be angry. From 1999 till date, Anenih and his clan monopolised the state's slots of federal appointments. While he had been minister, he handpicked Mike Oziegbe Onolememen, to fill Edo's slot in the same ministry. Indeed, Anenih supported Lucky Igbinedion of PDP to win his two terms as Edo governor. He (Anenih) also threw his weight behind Professor Oserheimen Osunbor to become governor on the platform of the same party.
Anenih was also the one who nominated Odion Ugbesia (now a senator), from his area, to become the Minister of Solid Minerals. His candidate, Senator Ehigie Uzamare, defeated Daisy Danjuma for the Senatorial candidacy, thereby expanding Anenih's influence peddling ability.
People were angry that Anenih's Esan North East Local Government Area was not benefiting from these appointments as it remained highly under-developed. There is no tertiary educational institution, no good hospital and no industries. "Even as Works Minister, the federal roads into or out of Benin were deplorable, even the Benin/Auchi Road was not dualised," Akhaine complained.
But the election that brought Osunbor to power was characterised by vote rigging.  Oshiomhole of ACN headed for the electoral tribunal where he fought for over 17 months to regain his mandate. At that point too, things had fallen apart between Osunbor and his godfather. The man was not ready to entertain another Lamidi Adedibu, the late Ibadan politician known for base politics.
In April this year, this magazine reported: "Before his sack as governor, Osunbor allegedly became high-handed and disloyal to the godfather. To punish Osunbor, Anenih allegedly vowed to ensure his ouster from office. He held a secret meeting with his former adversary, Oshiomhole, at which he was said to have vowed to install him as governor after obtaining his pledge of loyalty." At the end of the battle on 12 November 2009, the Court of Appeal, sitting in Benin, annulled Osunbor's election and declared Oshiomhole the duly elected governor of the state.
But there was a problem. The new governor found it difficult to operate smoothly because the House of Assembly members were predominantly PDP. The relationship, however, turned sour a few months into his administration, when the House of Assembly refused to sign his budget as presented. Oshiomhole charged that the 2010 Budget was approved at the Abuja residence of Chief Anenih after he was alleged to have manipulated it whimsically. Present at the meting, as Oshiomhole alleged, were former speaker of the Edo House of Assembly, Zakawanu Garuba; his deputy, Levis Aigbogun; Majority Leader, Phillip Shuaibu, and Mr. Chris Umogbai.
"There were controversies because the budget the House of Assembly approved was mutilated. A number of projects that I thought were crucial to the development of Edo State were removed. I raised an alarm. I protested that the budget was not implementable. Even when the Oba of Benin intervened, the problem persisted. I can confirm to you that the 2009 Budget of Edo State was settled in the quiet living room of Chief Tony Anenih in his residence in Abuja," Oshiomhole said.
It was at this point that Oshiomhole began the plan to send Anenih into the scrapheap of history. First, in February 2010, he engineered the exit of Speaker Garuba, Anenih's Man Friday, and his kitchen cabinet. Anenih regarded this as a kick in the groin and afterwards both men began living like two cocks thrown into a pit.
Oshiomhole, steeped in revolutionary catechisms of old, decided to use Rule 15 of Robert Greene's 48 Laws of Power, which admonishes fighters to "crush your enemy totally". Greene writes: "A tiny ember with enough time and fuel can cause even the greatest forests to be destroyed…And like many people totally humiliated by defeat, the ire and the hope of vengeance grow with every succeeding day and like a cornered tiger become willing to fight with nothing to lose. Is it then not better then to destroy your enemy before they have a chance of revenge?"
To weaken Anenih further, Oshiomhole adopted a panoply of stratagems. One of them was to, as the elections were inching closer, match Anenih war-chest for war-chest. Since he was not ready to dip his hand in the public till to run his campaign, the governor decided to raise funds in Abuja and Lagos through the "Adams Oshiomhole 2012 Campaign Committee". The campaign group comprised businessmen and professionals in various fields who have identified with the transformation agenda of Oshiomhole administration. Former PDP National Chairman, Chief Audu Ogbeh, chaired it while the Chairman, BUA Group, Alhaji Abdulsamad Isyaku Ibrahim was special guest of honour.
Oshiomhole's other strategy was to steal the people's hearts with good performance, knowing full well that this and a deep wallet are not mutually exclusive.
TheNEWS gathered that his administration renovated over 130 schools. In fact, that those school premises became polling units worked in Oshiomhole's favour, as the Edo people generally refused to vote against these structures! Indeed, the Central Hospital in Benin that was built in 1902, which Oshiomhole demolished and is replacing with a 10-storey building, sat well with the people. As at the time of the election, work had reached over 75 per cent completion there. All the 18 local government areas have one health institution or the other.
The Benin water project and the ambitious project to checkmate erosion in Benin City resonate with the people. Apart from that, the state capital is now characterised by dual carriage ways with street-lighting. The governor also raised the morale of civil servants by promoting deserving ones. Also, over 20,000 youths were gainfully employed in different aspects and sectors of the economy. With the e-payment system eliminating the ghost workers syndrome, Oshiomhole was able to free funds for key projects. In four years, the governor increased the Internally Generated Revenue from N200 million monthly to about N2 billion.
And as the election approached, the government promised the people 113,000 jobs, a five-star hotel, over 10,000 housing units, a 450 megawatts power project among others.
Another factor that helped Oshiomhole in defeating Anenih was the former's mastery of propaganda; something he has been doing since 1975, when he became a full-time trade union organiser and spokesman.
Oshiomhole remarkably turned the truck accident his convoy was involved in to a campaign issue. The governor also seized the opportunity of the public debate, organised by the Nigerian Elections Debate Group, NEDG, to sometimes hit the PDP candidate below the belt. But the latter started it all when he said the governor budgeted N6 billion for health, N3 billion for education and N18 billion for beautification of the state before asking if he was beautifying his pocket. By saying that, the PDP candidate inexorably stepped on a rattlesnake. Oshiomhole reacted by alleging that his opponent did not retire honourably from the Army. The debate was watched on live television and helped people conclude that Anenih's protege lacked integrity.
Another factor that worked against Anenih was his choice of candidate. Within PDP, about seven aspirants prepared for the primary election held in February. They included Professor Julius Ihonvbere from Edo North, Oserhiemen Osunbor, Kenneth Imansuagbon, Matthew Iduoriyekemwen and Airhiavbere. But Anenih settled for the last man, a retired Major General and former instructor with the National Institute for Policy and Strategic Studies, NIPSS. Apart from his deep wallet, he is from Edo South (Benin area) which constitutes 55 per cent of the voting population. But this ethnic trick was rendered impotent in the face of Oshiomhole's performance. The support given Oshiomhole by the Oba of Benin, Omonoba Erediauwa also shredded this plan.
Oshiomhole also ran an effective campaign, touring all the 18 local councils, swapping salvo for salvo with Anenih and his men. First, Anenih threatened to teach the governor a lesson and said that the ACN government was like a "vibrating air conditioner without a compressor, which can never cool the house". But Oshiomhole replied: "In a democracy, there is no godfather. We only have good people. Watching the television the other day, I saw a dying godfather desperately running his mouth. Who was speaking? The man that once had the opportunity of being a Minister of the Federal Republic of Nigeria with a mandate to fix our roads! They call him Mr. Fix It, but he could not fix the Lagos-Benin Expressway. They call him Mr. Fix It, he could not fix roads in Uromi, where he comes from. Abuja-Lokoja Expressway ends at Okene. He could not extend it to Edo State that is located just after Kogi State."
Threat was another weapon that Oshiomhole used effectively. Speaking at one of the campaign rallies, the governor declared: "This land belongs to all of us and nobody can be intimidated. In accepting to be the governor of this state, I decided to put every thing into it. We will not be allowing political miscreants in their 80s to continue to manipulate the system. If they like, let them bring police from South Africa; let them bring police from anywhere, including from Anenih's farm. Edo State will not be captured again. We are ready. Even death cannot be avoided. The only way to avoid death is to avoid birth. Once you are born, you must die. We have the capacity to march on them."
Notwithstanding his verbal darts at the PDP, Oshiomhole adopted a style of not attacking Jonathan. In fact, on the day the President visited Benin for the campaign, the governor went into the presidential jet with Anenih. As Anenih presented a cap gift to the visitor, Oshiomhole also presented his. As they all disembarked, the two enemies (the governor and Anenih) shook hands, a photograph that graced the front pages of newspapers the following day. Later, Oshiomhole told a political associate what went on in his mind at that time. "It was like when you pay your last respect to your enemy as he lies in state. You manage a plastic smile, knowing full well that here is your arch foe right in the casket. That was the case of my handshake with Anenih," he was quoted to have said.
With regard to his relationship with Jonathan, Oshiomhole said what the Edo election confirmed was that when the President puts the country first and he conducts himself as a statesman, not just a party leader, credible elections are possible. "People were apprehensive that the Nigerian Army could be misused. But of course, I told them I didn't think they were right. And the President gave clear directives that the votes must count. He warned that there (should) be no rigging; no manipulation, no ballot snatching and orders were given to the Army to ensure none of those things happened. And the Army carried out the order," the governor maintained.
There are many implications of the Edo election on the Nigerian polity. First, people have become more enlightened to elect a performer, notwithstanding his village of origin. The PDP wanted to play the ethnic card when it fielded Airhiavbere, a native of Benin. But that stratagem exploded in Anenih's face. Benin people rejected his candidate and voted for Oshiomhole because they could see his achievements. This failure of ethnic card, which the late Abiola and Oshiomhole proved, means Nigerians can vote for a good president, notwithstanding his tribe.
What happened in Edo State was, according to a political analyst, a mini-referendum on the PDP administration at the centre. In fact, Jonathan's visit to the state helped to exacerbate the citizens' anger as his government is deemed to have failed thus far.
Also, analysts posit that where there is synergy among the various armed forces, they can maintain peace and ensure that elections take place as planned.
A cross-section of Nigerians also commended INEC for its sense of dialogue with stakeholders and non-governmental organisations, constantly seeking feedback from all stakeholders. "If this can be replicated elsewhere and in all general elections," an elder statesman told this magazine, "Nigeria will be better for it."
By Ademola Adegbamigbe, additional reports by Jethro Ibileke, Folarin Ademosu and  Ebhomele Eromosele
–Culled from TheNEWS magazine, 30 July 2012 Edition

Load more