A 27-year old man, Mayowa Sahibu, has been arrested by the police for impersonating Lagos State Traffic Management Authority, LASTMA, officials.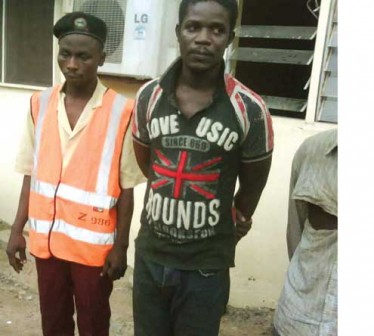 He sewed LASTMA uniform which he wears to extort money from motorists.
He was arrested by the Special Anti-Robbery Squad, SARS, with his accomplice, Saheed Akintade, along Allen Avenue Ikeja, Lagos State, Southwest Nigeria, where they were harassing and extorting money from road users.
Sahibu and Saheed were initially arrested as suspected armed robbers but they denied the allegation, confessing that they were only fake LATSMA workers. Sahibu said he was jobless and discovered that they could make money by impersonating LASTMA officials.
He confessed he worked with Akintade, who impounded vehicles or motorcycles from owners and pretended that he was taking them to the LATSMA office. But he said victims often give them bribe in order to release their vehicles.  Sahibu, who confessed that they work from morning till evening daily,  said that motorists who have known them over time usually bribe them with N200 each.
He refuted the allegation by the police that he was an armed robber, saying he went into the illegal business after he discovered that men in uniform make a lot of money  on the road.
The suspects pleaded that they should not be treated as armed robbers as claimed by the SARS but as common criminals.
—Cyriacus Izuekwe

Load more