Micah Aruocha, also known as MC Ice, has his hands in many pies. He is a comedian, radio presenter, actor and also an MC who is fast making his way into the hearts of Nigerians. In this interview with P.M Entertainment, he talks about his career and comedy business in the country.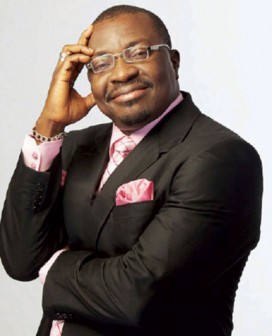 How has your foray into the showbiz industry been?
It has been good, at least slow and steady. Since I joined Eko FM as an OAP (On-Air Personality) five years ago after my graduation as a Mass Communication student from Olabisi Onabanjo University, I have never looked back, and that has given me the leverage in the entertainment industry, so to say.
How has the experience been?
Well, it started somehow rough. It is only marriage that usually starts sweet and may be gets bitter later. But like every other person, it started very rough, but now we thank God.
 What problems did you have then?
The truth is that I never saw them as problems, but as challenges that helped me to become who I am today. Everyday comes with its challenges but we thank God that we have been able to surmount them, if not, we won't be where we are today.
 What about the gains?
The gains are uncountable; let me put it that way. I remember when I started, my Mom always complained that despite being an OAP, my take-home pay was not even enough to take care of my transportation. I remember going to beg her for transportation then, and she would be complaining about the nature of my job. But today, thank God, I have a sister who insisted that she should allow me do what I have passion for. As a typical Igbo boy, she had wanted me to go into trading. She wanted me to work with one of my in-laws who is into import and export business.
 So what target did you set for yourself?
I wouldn't say I have a particular target, but I knew I would definitely get to where I am today. I have always known that I would become an On-Air Personality because right from when I was a child, I don't joke with radio. I could remember when Ray Power first commenced work, I was one of the first people who knew. Now, I'm not just an OAP, but a complete entertainer. I used to be a teacher and was being paid N1,000 per month then. That should be between year 2000 and 2001 at one school in Dopemu area of Lagos. Even at that time, I knew where I was going; being a teacher was just one of the junctions I needed to get to first.
You are an OAP, comedian, voice-over artiste and actor. How do you combine them?
I started as an actor on stage, and I still do a lot of it on radio but in Yoruba, English or pidgin, which is my core area of specialisation. That is why I always feel it is not fair when people refer to me just as a comedian. It's like boxing me into a corner. I belong to other associations, so as a result of that, I prefer to be called an entertainer.
Are you taking up acting seriously soon?
I have been talking to some of my friends who are producers, but the only challenge I might have is time. Acting takes a lot of time, particularly when the location is not in Lagos. And because I present my programmes everyday on radio, staying that long on location might not really be possible for me. But if it is short comedy flicks that won't take much of my time, I will love it.
Some years ago, there were few comedians in the industry and now the number has increased. Are you satisfied with the development?
Well, whether I'm satisfied or not, I am not in the position to judge anybody. But for me, I am not just a comedian; it is when I'm not busy that I do comedy jobs. Basically, I prefer to do MC jobs because it pays me more. The comedy industry is a big one and our biggest challenge is being able to form an association just like other entertainment practitioners. It is through such platform that we would be able to tell the comedians how to do it right and act like professionals. If not, they will lose clients. But I believe the sky is wide enough for everybody to fly. So if we have a small number of comedians, some events will need to be rescheduled just because there will be nobody to anchor them.
What is the difference between an MC and a comedian?
From what I can see, I Go Dye has not anchored an event before; he would rather pass it on to another person because he prefers to be a comedian. As for me, I am a spontaneous person. I don't attend Nite of a Thousand Laughs, not that I'm not funny but because I don't want to be boxed into that container of comedians. For instance, Ali Baba and Gbenga Adeyinka are better off as MCs than as comedians. Some people would tell you that AY is not funny, but when he stages a show, everybody will be there. That is because he knows how to set his priorities right. Sunny Irabor is a good MC and he will never tell you he is a comedian. He will not come and crack jokes at your event, but there are some references he would make as an MC that are more spontaneous. There are some comedians that would never anchor an event, and there are some MCs that will not do comedy. An MC is someone who should see to the running of the programme that has been given to him or her and make sure everything is done well. He may just need to put a little bit of comic relief in-between the programme just to make it gel.
So, why do you think joke theft is very rampant among comedians?
Well, I will say the way our country has been structured is responsible for that. We don't respect copyright. I could be on radio now with a concept, and before you know it, someone is on another radio station using the same concept and nothing happens. But for me, the kind of jokes I do as a comedian would be very difficult to do on stage by another comedian. They are jokes you can just narrate to friends, but performing it on stage, you will definitely be scared of the delivery.
—Bayo Adetu

Load more