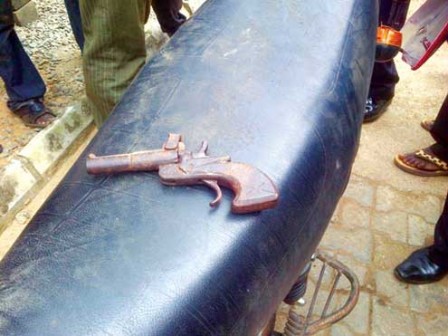 There was a shocking find in Lagos, southwest Nigeria, yesterday when the Taskforce on Environmental and Special Offences (Enforcement) Unit impounded 130 commercial motorcycles, also known as okada.
A gun hidden in one of the motorcycles was found while it was being searched by the taskforce. The Taskforce arrested 51 suspected hoodlums at different parts of the state and impounded 130 okadas that violated the traffic laws of the state in a renewed massive onslaught against the operators.
The gun was found in one of the okadas when the Taskforce chairman, Bayo Sulaiman and his team search it.
After the gun was recovered by officials of the taskforce, the police refused to give the identity of the motorcycle as they had begun a manhunt for its owner.
The 51 suspected hoodlums were arrested in  Ojota, Oshodi, Isolo, Ilasamaja and Cele on Tuesday by the taskforce and brought to the taskforce headquarters in Alausa in a Black Maria.
Those arrested included 14 under-aged children. The children will be taken to one of the Lagos State Correctional Centres for Boys for correction.
Taskforce Chairman, Bayo Sulaiman said the suspected hoodlums would be arraigned in court today while those found culpable would be punished according to the laws of the state.
He stated that the taskforce had stepped up enforcement against miscreants as they constituted criminal elements in the society and terrorised innocent people, saying that "we don't want them to come back to the main roads again. We are going to charge them to court. The exercise will be continuous."
P.M.NEWS gathered that the Commissioner of Police in Lagos State, Umar Manko had ordered the police to clampdown on okada riders who ride against traffic on the expressways and other unauthorised places.
According to Sulaiman, okadas were not expected to ply the highways, ride against traffic and breach the laws of the state and that many of them were being used for criminal purposes.
—Kazeem Ugbodaga 

Load more