Versatile Nollywood actress, Mercy Johnson, is currently observing a nine-month course—she is pregnant. But what has surprised those who have seen her lately is how the actress is trying to hide her protruding tummy from public glare.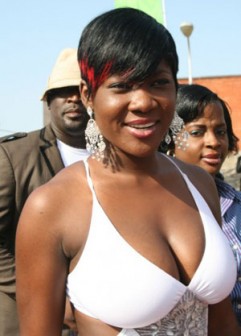 Despite it being obvious that she is pregnant, the actress still tries to hide it as she was seen 'stylishly' covering her tummy with her handbag, prompting her fans to wonder why she was acting in such way.
The actress was spotted in Asaba Airport in company of her hubby at about 4 p.m. on Friday when she was about to board an Arik flight from Asaba, Delta State to Lagos. She was wearing a black gown and, of course, has added more weight.
Immediately the actress arrived at the airport, she became the cynosure of all eyes, particularly due to her current condition.
One of her fans at the airport squealed to Nollywood Reel that "Everybody was just wondering why she was covering the pregnancy. After all, she is an adult and got married legally, so it is normal that she gets pregnant. But it is a source of concern that she is covering it She shouldn't be  ashamed of such a good development."
Nollywood Reel gathered that like she did in Asaba, the actress is fond of covering her pregnancy with her hand bags whenever she is in the  public.