Nollywood actors, Olu Jacobs and Joke Silva are a couple united not just by a marital bond but also by their acting prowess both on set and on stage. Both of them are writers, directors and producers. They have received several awards amongst which is the African Movie Academy Award, AMAA. Recently, as curators for the Bank of Industry, their company, Lufodo Productions, which was established in 1985, showcased Nigeria through spectacular performances at the just concluded 2012 London Olympics. Jacobs who recently clocked 70 and his wife, Joke spoke to NEHRU ODEH about their experiences at the Olympics, why they performed there and other issues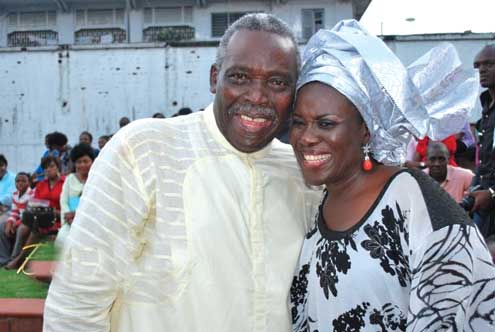 Your theatre company, Lufodo Productions, was in London during the Olympics to perform some plays. Could you speak about the performances?
Joke  Silva: The Bank of Industry set up a vehicle called New World Nigeria. And the idea behind New World Nigeria is just like an extension or a part of the rebranding process for Nigeria. Why do I say that? You don't just rebrand a country; it is also important for people to see the other side of your country apart from what the CNN or  CBS decide to tell people about your country. It would also be very nice for them to have a plaque of another aspect of your country. We were a part of New World Nigeria in the Olympics. We were asked to curate theatre, film and poetry for the Olympics because it was an opportunity to showcase Nigeria through theatre, film, poetry and documentary to the world; that is where the world's attention would be at the Olympics. So we took three plays, The Naming Ceremony by Sefi Atta, a 30-minute drama about comtemporary Nigerian life. Then we had The Lion And The Jewel by Wole Soyinka. We also had The King Must Dance Naked by Fred Agbeyegbe. Concerning poetry, we had Mrs. Tosin Otudeko who handled that aspect under her company, Garden Theatre. So Lufodo Productions employed Garden Theatre to give us a slice of Nigerian poetry across generations. We also had  a mini film festival to celebrate Nollywood at 20.  We approached Nollywood at 20 in a way that through Mr Gyang we had a slice of the northern film industry; through Amaka Igwe we had a slice of the East and through Tunde Kelani we had a slice of the West. We were celebrating Nollywood through the film makers and their films.
What informed the choice of the plays that were performed?
Olu Jacobs: That is a very interesting question. Nigeria is known in the literature world. And it is only recognised by certain limited names – Wole Soyinka, Chinua Achebe. We don't have many celebrated theatrelites. So we decided one, to  show  them the one that they know, which is Wole Soyinka. And again to tell them that it is not only Wole Soyinka we have in Nigeria, and that with The King Must Dance Naked by Agbeyegbe we have other playwrights who are very good as well. The third one is a playlet that is informative and entertaining as well. It is a major view of a naming ceremony of a new baby and some of the problems that newly weds come across culturally, traditionally and how it affects them emotionally as well. I am sure other countries too would find similaries in that. So that is why we chose that. Apart from Agbeyegbe being a good playwright, The King Must Dance Naked is a very  good play. We wanted people to see us not as we are being painted but as we are.
Did you achieve your objective of selling Nigeria to the world?
Olu Jacobs: Yes, I believe we achieved it. And people, both white and black, came. And they said so. They really enjoyed  it. They didn't know that we have such variety of materials, and we have many here. But if we don't come and tell you our stories then it is our fault whichever way people see us. But we have decided to show ourselves as  we are and for people to know one-on-one. That is the most important thing, and it was very successful.
Joke Silva: We have a lot of Diasporaen Nigerians in London and those that came to watch the plays were so proud. To them, here was something positive happening about their country from their mother country. And also for them it was a standard. Though it was a standard we often see anyway, for them it wasn't often that they see live theatre from Nigeria done to that standard. I also want to add the fact there was a Nigerian business summit in London around the time of the Olympics and we were part of the entertainment aspect of that summit as well. The business summit was an extremely success story. First of all, they were expecting like 300 people at the Dorchester Hotel but everyday they got a thousand people. So they had to extend the hall. So, all in all, the entire experiment was to show a slice of Nigeria, another aspect of Nigeria that people didn't know, and it was so successful.
Why choose the period of the Olympics to perform the plays?
Joke Silva: Because it won't be difficult to get the attention of the entire world. You had people from all over the world. Also it was a very good opening to showcase Nigeria during the opening of the Nigerian House, the hospitality house, which was strategically located. And this was something Britain was selling to all countries; that all countries should have a hospitality house for their athletes and for people who wanted to know about their country. And  Nigeria took advantage of that. We had theatre performances for free. The beauty of that was that even when things were not going too well for our athletes, at the Nigerian House we had Nigerian food, fashion, the plays. It was just a place for Nigerians who just wanted to feel not too far from home to visit. It was nice for people who had never been to Nigeria but had heard about it to visit. And it was also nice for Diasporeans. So for all we know, it was a successful idea.
While you have distinguished yourselves in Nollywood, not many Nigerians are acquainted with your theatrical aspect. So what would you say is your first love: Nollywood or live theatre?
Olu Jacobs: All of us in this field are all children of theatre because that is the base anywhere in the world. Even the Americans took all their gimmickry and all the magic they produce to give movies good acceptance in the public. Theatre is the backbone. It is where you learn your craft, where you perfect it. Movies is where you display it. A lot of people can't separate them. They are inseparable. The only thing you have to adjust is how you modulate your voice and your actions so that they don't look exactly the same. Once you can handle that and you have a very good background in theatre, then the sky is your limit; if you are talented (laughs).
Joke Silva: Just to buttress what Olu was saying is the fact that when you train in the theatre, you even work in the theatre because there is such a meeting point putting up theatre plays and all that. But your acceptability, fame, usually comes from movies, from television. Yes, because it has a wider reach. And so usually what I tend to advise people who are still coming to the industry: know your craft, start from film if possible but try and get into television or film because what that does then is to let a wider audience know you. And so when you then come back into the theatre, you now become a draw, you are one of those who will sit down in the theatre and it affects how you get paid.
What kind of background do you have in theatre?
Olu Jacobs: Just for people who don't know the kind of background we have in theatre, I was in England for 21 years and I was in drama, in the Royal Academy of Dramatic Arts and worked in the various theatres throughout the length and breadth of Britain. In London you have  the Royal Court, the Duke of York, that is in the West End,  Charring Cross Road, that is  Theme Theatre, which is 1200. I played there for 18 months and I did not miss one performance; I was the only one of the main actors who did not miss one performance. We believe very, very much in theatre and we would not compel anybody to go and do theatre, but we always advise them; because you can develop various aspects of the arts there; which is more of an obsession than other professions.
Over the years you have had distinguished careers as Nollywood actors. At what time in your life did it dawn on you that you have a flair for acting? Or when did you decide to become an actor?
Joke Silva: For me it was from very young, and it was because of my parents and husband that I came to see it as a profession that has a lot of respect; and it has been a like-mind journey for me.
Olu Jacobs:  From a toddler I have been interested in music and dancing. And when I was very young we had a total theatre of dance, music and songs. So I was not surprised when I decided I would want to be an actor. In schools, I would always be in the drama, and I was an altar boy in the church. I was also in the Boy Scouts. So I was always involved in all these things and entertainment was part of them. One day I was sent on an errand and I saw this open vehicle with music and funfair. The people inside the vehicle dropped some leaflets and I picked one of them, put it in my pocket and ran home. I showed my parents and they were anxious that Hubert Ogunde was coming to play. I asked them if we could go and see them. And they used that opportunity to tell me that I would go if only I did the house chores. Of course, to my own surprise I did. So we went. It was an incredible performance. The place was jam-packed. And as were in the theatre, all the lights were on and all of a sudden, the lights went. Then the spotlight. Ogunde always started his with  dance and singing before the story started, and it was magical. And I was able to remove myself from the circle to look at the performance. Everybody was special, it was total. And I said to myself, this is what I would like to do – to make people feel happy; and I was seven.
Could you recount some of the unforgettable experiences you had in London?
Joke Silva: It was so wonderful to be in a proper theatre and see how it was run. You had the dressing room, you had this theatre that had so many lights. It came with the theatre. It is not like you are hiring light. It is not as if you can't hire lights but the amount of light that were there was more than enough for our purposes. It was beautiful. That was wonderful, properly run theatre with a box office. As soon as you get into the theatre there is a box office, and you move forward before you get into the main auditorium, and a little further there is a small bar upstairs, the offices, everything. And it was so well run. And then the standard. You couldn't get into the theatre without either a complimentary ticket or a seating ticket. We were the producers of the shows that were shown on the main auditorium and we couldn't get in without our tickets. We had to get either a complimentary ticket or we bought. Even our directors, it was exactly the same for them. In fact one of our directors actually bought a ticket to go and watch her own show (laughs).  So those are the kind of standards one is talking about and I totally agree with that. Sometimes I wonder, I don't know why when you ask people to come and watch a play, they are always wanting to come and watch for free. And as my friends they are probably either selling shoes or you are a banker. If you are my friend and you are a banker, not only will you not give me a loan, if I want to withdraw money from my own account, I will still pay you. So why is it that in entertainment everybody is looking for a free ticket? That I would never forget. We played not only in Stratford, we also played in Gilford, Surrey. And it was also the same experiences we had. There was a rehearsal space in the theatre in Stretford, but there was no space in Surrey. It was a community hall attached to a church that we used to rehearse in Surrey. It just kind of gives you more of an impetus as to the kind of things we need back home. Right now, apart from the National Theatre we really don't have any proper theatre. Because the thing is that when people are talking about theatre not kicking off in Nigeria, which is Lagos because of the population, there are no spaces for performance. And also the cost of doing business is so high in Lagos.
Besides that, you were asking what was my takeaway. It was just such a lovely experience and then, the people who were running the theatre were so nice, so lovely. And it was just a sheer number of people that were running the theatre. And nobody is concentrating on just administration. Everybody was involved in the show that comes into the theatre; and their focus was on bringing shows to the theatre. This is unlike what we have. Sometimes there are hardly any shows. We have more businesses, more churches than shows in the theatre. And it is disheartening. It was nice to once again see a theatre being used for what it was set up for. And there was the day that Wole Soyinka came. Oh that was nice! There was an Evening with Wole Soyinka.  And as always he did us extremely proud and the theatre was full. There they would not allow you to stand. We had a performance of The Lion And The Jewel the day before. And the theatre was full. We had  a lot of  people. They came again the second day but they were wiser this time; they came a bit early. Those who came late didn't have seats. It was fair to see people appreciate not only the playwrights but the performance, to see the kind of talents that we have, directing wise, performance wise. Technically they couldn't believe the standards of the sophistication of our acting, of our technical people. They just realised that we are sophisticated.
There is this belief that live theatre is either dead or on a steep decline in Nigeria. What are your views ?
Olu Jacobs: It is not too far-fetched. In the 1980s we had the bustling of theatre. Theatre was bustling in that period. Even then we didn't build a new theatre. The only theatre that was built was the National Theatre and even it was built for FESTAC and it was world class. It had every facility there. Unfortunately we ran it down. Like all the others, no cinemas, no theatres were built. Nothing. We were just using what we had. And then we began to have armed robbery, and that became a very serious issue. And as soon as that began to happen, the theatres and the cinemas all went empty. By the middle of the 80s, the few cinemas were shutting down and the theatres were not operating beyond probably 4 of 5 O'Clock in the evening. So, all other things were affected. It was so bad that even many of the cinema houses became supermarkets or churches. And theatre became comatose.

Load more