The life of Justice Mustapha Akanbi, now 80, is one of integrity and service to his nation
He was sweating profusely under the smiting equatorial sun, a mischievous smile playing on his lips. But if young Mustapha Akanbi, who grew up to become President of the Appeal Court, thought that he could hoodwink his father, Alhaji Bello Akanbi Oniyo, that afternoon in Accra, Ghana, he was dead wrong. The young boy walked in with a spring to his steps, holding his shoulders high and wearing his cap at a jaunty angle as he, intermittently, whistled along. The thought of his lunch made him salivate, his Adam's apple making anticipatory clicks.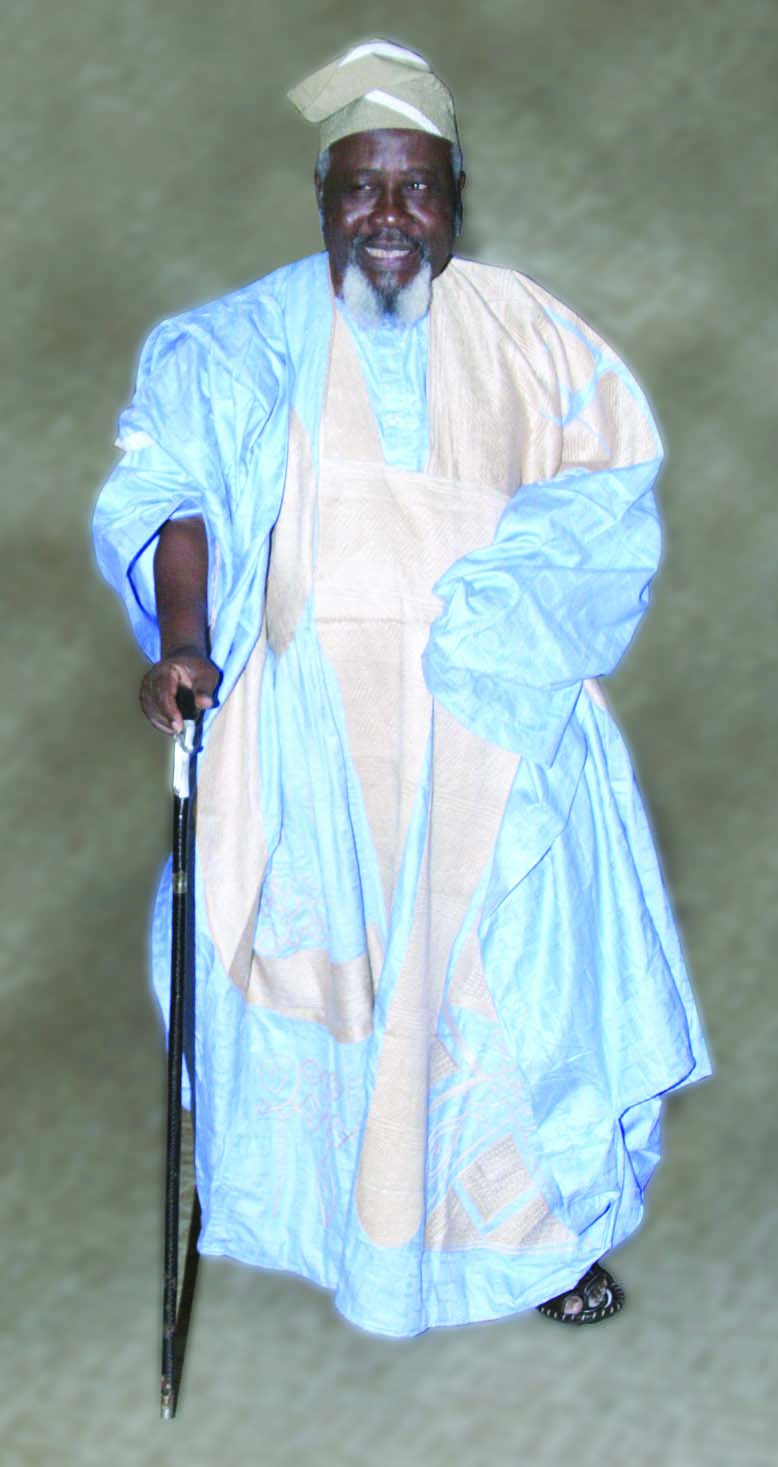 Akanbi greeted his father. Were he perceptive enough that day, he would have noticed a different tenor in the old man's response. "Go into the kitchen for your food," his father said, shaking his legs, but avoiding eye contact with the lad. As the boy bounced in and was about opening his plate, he heard the sound of the door, creaking on its greased hinges. His father had walked in quietly and shut the door. Before young Akanbi could know what was happening, his father descended on him and gave him the beating of his life. That afternoon, the sun, the stars and the entire galaxy made a dizzying whirligig in his small brain.
It was after Akanbi's head cleared that he was told his offence – truancy. That day, he did not go to school; instead he went to the beach in Accra to enjoy himself. But he did not know that his father had gone to the school to check if he was there. From that day, he never missed school. And that marked a turning point in his life.
Akanbi, like others of his age, had his own traces of rascality when he was young. He grew up at Cow Lane in Accra, Ghana, an environment that was tough and, in a manner of speaking, a pressure cooker of Hausa, Yoruba and all other tribes. For good measure, the area could boast of two boxing clubs: London and Marconi. Almost every young boy in Cow Lane learnt how to box because they were always fighting. Akanbi was also involved in all sorts of childhood pranks, like going to the beach for a swim, which his parents detested for fear of him drowning. And, from time to time, he would run away from his western and Arabic schools to go and play in such dangerous places.
Arguably, these two experiences played a part in moulding Akanbi. First, the street background created in him, a tough character. He has penetrating eyes that peer into the depth of a soul, as if the other person were an opponent in a boxing ring. Akanbi also dons a revolutionary beard, which looks like a South African assegai, a symbol of relentless war on vices in all spheres of life in Nigeria. Of course, one cannot shoo off Chulwuemeka Ezeife, a former Anambra State governor and pro-democracy activist; the late Chukwuemeka Ojukwu and Professor Wole Soyinka, who all grew the same trademark beards, as spineless sissies! Suffice it to state that Akanbi, too, fears no individual.
The major influence in his life, however, was his father. As Akanbi told this magazine, "My father had been responsible largely for what I am today because although by English standard, he was not literate, he  placed so much emphasis on good education, and he would always come and check in school whether I was attending or not."
Born on 11 September 1932 in Accra, Akanbi's parents introduced him to Islamic teachings early in life. In order not to get lost in the Diaspora, his parents brought young Akanbi to Nigeria to learn the Quran. In 1939, his father took him back to Ghana, where he attended the African College for his primary education and Accra Royal (Middle) School. He later proceeded to Odogono Secondary School, OSSA, which had the same thoroughness as Tai Solarin's Mayflower College, Ikenne, Ogun State.
After his secondary school education, Akanbi worked briefly as an executive officer in Ghana and was an active executive member of Ward 11, Convention Peoples Party, CPP, in Accra. When he returned home, he was appointed an Assistant Executive Officer with the then Government of Northern Nigeria; he had a stint at the School Broadcasting Department of the Ministry of Education. His professional path was charted when the government, then led by the Sir Ahmadu Bello, the Sardauna of Sokoto, wanted to train various professionals through awards of scholarship, Akanbi was among the 12  offered admission to study law at the Institute of Administration, now Ahmadu Bello University, Zaria in 1960.
The following year, Akanbi proceeded to the United Kingdom to complete his bar final examination. In 1963, he was called to the English Bar. When he completed his law degree, he came back home and attended the Nigeria Law School. On 13 January 1964, Akanbi was called to the Nigerian Bar.
Akanbi first joined the Ministry of Justice in the Northern Region as a Pupil State Counsel in 1964. Four years later, he was promoted to Senior State Counsel. And when new states were created, Akanbi was deployed to then Benue Plateau State as deputy to the Solicitor-General.
Like Christopher Alexander Sapara Williams, the first indigenous lawyer, who said "a lawyer lives for the direction of his people and the advancement of the cause of his country," Akanbi set up a practice as "a vehicle for social justice and service to the people." In June 1969, he established his own firm, Sharia Chambers, in Kano and he had a branch in Ilorin, headed by Alhaji Ismaila Sadiq, and another in Kaduna, under Alhaji Abdullahi Ibrahim. It was at this point that his trip from the bar to the bench began.
As he narrated to this medium, he received a telephone call from Justice Arthur Wheeler who was the judge in Kano. Wheeler invited him to his chamber to inform him that he got a telephone call from Nigel Reed, then Chief Justice of Northern Nigeria, about the newly-established Federal Revenue Court, now known as the Federal High Court. Wheeler told Akanbi that Reed wanted to appoint new judges and he wanted the young lawyer to be one of them. "I told Justice Wheeler that I had set up a practice, was doing well and it would be terrible if I had to leave," said Akanbi. "Wheeler was disappointed because he thought I would jump at the offer. As I was  getting to the gate, he called me and said, 'Mustapha, if I were you, I would accept the appointment.' So I said he should give me some time to think over it. When I got home, I told my father, who advised me to accept the appointment. That was how I accepted the appointment and became a member of the bench."
Thus, in 1974, Akanbi was invited to serve as a judge of the Federal Revenue Court, and on 1 January 1977, he was promoted to the Court of Appeal. Throughout the several public offices occupied by His Lordship, he demonstrated a high sense of humility, intellect, fairness, integrity, industry, commitment and hard work." In 1992, he was elevated to President, Court of Appeal, from which he voluntarily retired in 1999.
Since a gold fish cannot hide, former President Olusegun Obasanjo, in 2000, appointed Akanbi as Chairman of the newly established Independent Corrupt Practices Commission, ICPC.
Although Akanbi is retired, he is not tired. Apart from his non-governmental organisation, he does not cease to speak against corruption in Nigeria. The matter is so serious that, in May, Transparency International, in a letter to President Goodluck Jonathan by its legal consultants, the Hague-based Fitch and Associates, expressed worry about the increasing cases of corruption in the country. TI noted that corruption rate "was so high that the body had to double the number of its country rapporteurs in Nigeria, to be able to catch up with events"! In fact, Nigeria was ranked first among corrupt countries in the world in 2000 and third in 2004 and 2005 respectively. In 2011, TI ranked Nigeria 143 out of 183 on the corruption perception index.
It is for this reason that Akanbi will never cease to speak against sleaze. In fact, he is still fighting corruption, organising programmes against it. He added that there must be the political will to fight corruption to the roots, "and not these cosmetic things we are doing here."
In the following interview with STEPHEN ONI, our correspondent in Ilorin, Akanbi, who turns 80 on 11 September, speaks on his life, career and how to make Nigeria better.
—Ademola Adegbamigbe/TheNEWS

Load more