Honourable Dino Melaye, a former member of Federal House of Representatives led scores of protesters to the headquarters of Central Bank of Nigeria, CBN in protest against the proposed introduction of N5000 note and coinage of N5, N10 and N20 notes as recently announced by the apex bank.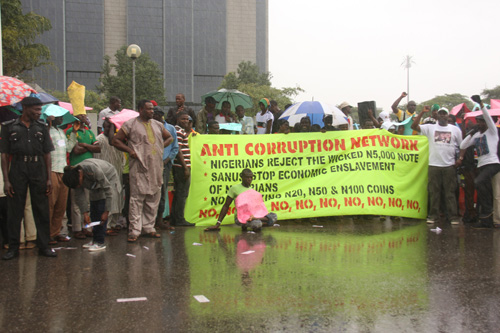 Dino who led the group of protesters under the aegis of Anti Corruption Network reiterated opposition of Nigerians to the currency restructuring policy of CBN. He told Tunde Lemo, Deputy Governor of CBN who received the protesters that the introduction of a single N5000 note will result in inflation and that Nigerians were opposed to it.
Melaye who described the entire proposed currency restructuring policy as anti people said the CBN Governor must listen to the opinion of the public on the matter. The lawmaker who described the proposed N5000 note as Haram also said it is unfortunate that Sanusi Lamido Sanusi has refused to listen to calls by National Assembly that he should suspend the policy. He vowed to continue to lead protests against the proposed currency restructuring until the apex bank dropped the idea.
While speaking for CBN, Lemo said it is not true that the apex bank will use N40 billion to print the new currency as recently reported in the media. He also said even if the CBN is not introducing the new notes, it will still spend money to print currency. Lemo also said the CBN will not do anything that will not be interest of the masses, while arguing that contrary to popular opinion, the introduction of the new N5000 note will not lead to higher inflation.
The CBN chief however promised that the apex bank will listen to the opinion of the people on the issue. The protest was peaceful as the Police, led by Ade  Shinababa, FCT Commissioner of Police ensured there was order.

Load more