Simon Ateba
Arik Air and world renowned aircraft maintenance service provider, Lufthansa Technik of Germany, have sealed a new partnership deal that aims at boosting the safety of Nigeria's largest airline.
The two organisations, Arik Air said, have agreed to strengthen a partnership first consummated about five years ago.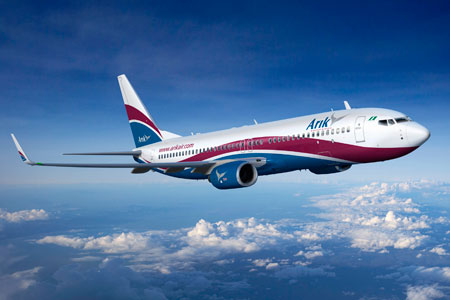 The deal was sealed at Arik Corporate Headquarters in Lagos, southwest Nigeria.
"Under the new partnership, Lufthansa Technik and Lufthansa Cityline will continue to provide technical support to Arik Air in the areas of line maintenance, base maintenance, materials and pool parts among others for the next five years.
"Lufthansa Technik is also to assist Arik Air in the area of personnel training and the establishment of a Maintenance, Repair and Overhaul (MRO) facility in Nigeria," said Banji Ola, Arik Air spokesperson.
The leader of the Lufthansa team who is the Sales and Marketing Director, Mr. Clemens Schrettl was quoted as saying that he was impressed with the outcome of the meeting describing the deliberations as fruitful.
"Lufthansa is happy with the partnership we have had with Arik in the last five years and this is why we are here today to renew that cooperation and seek further areas of cooperation with the airline. We are looking at taking this partnership to the next level," Arik Air quoted Mr. Schrettl as saying.
Arik Air Executive Vice President/Managing Director, Mr. Chris Ndulue, who led the airline's team to the meeting, thanked Lufthansa for their technical support over the years and looked forward to exploring new areas of cooperation and strengthening of existing relationship.
"Our association with Lufthansa Technik and Lufthansa Cityline has been of great advantage in the maintenance of our young aircraft fleet. It also underscores our commitment to the safety of our guests at all times," Ndulue was quoted as saying.