With speculation over the actual state of health of Nigeria's first lady, Dame Patience Jonathan still raging, there are reports that another member of President Goodluck Jonathan's cabinet may have been hospitalised in London.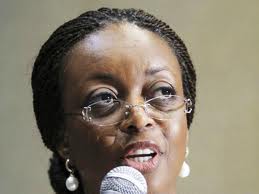 An online report on Saharareporters this morning reported that Mrs. Dieziani Alison Madueke, Nigeria's minister of Petroleum Resources, is currently undergoing treatment in a London hospital for an undisclosed illness.
P.M.NEWS confirmed from sources at the Ministry of Petroleum, Abuja, Nigeria's capital, this morning that the minister indeed travelled out of the country hale and hearty last week, but refused to disclose when she was billed to return to the country.
The online report, based on information from an unnamed doctor, said though the minister is not in immediate danger, her condition which was described as "abnormal cell development" is "potentially serious" and "assumed a dire dimension recently," which necessitated the decision to admit her in the hospital.
It was also learnt that Mrs. Madueke has been travelling to London monthly for the treatment of the condition before the recent development.
There are also speculations that the minister was in the London hospital as a result of stress.
The news of the hospitalisation of the minister coincided with a fesh round of petroleum scarcity threatening to grind activities in various parts of the country.
Long queues have been reported at filling stations in Abuja and many states such as Bayelsa, Kano, Zamfara, Anambra and Katsina, even as the Federal Government agencies gave assurance that there is enough fuel to go round.
—Ayorinde Oluokun/Abuja