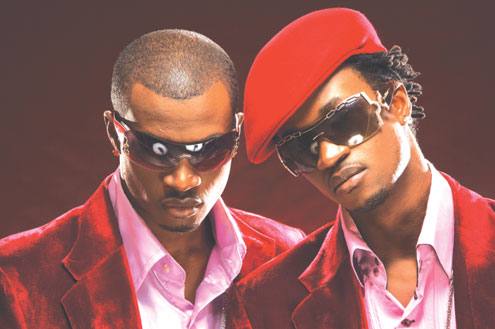 Multiple award-winning entertainers, Peter and Paul Okoye, famously known as P-Square, mesmerised their United Kingdom fans during this year's Afro Beats Festival held at HMV Apollo on Sunday, 26 August, 2012.
The Okoye twin brothers, who stormed the concert venue with their 14-man band, performed on stage for about two hours, dishing out songs from their repertoire, yet left their fans at the capacity-filled venue yearning for more.
P-Square's energetic dance routine and collection of monster hit songs rendered at the concert was described as one of the best performances to be put up by a Nigerian artiste in the UK so far. Tottenham Hotspur star, Emmanuel Adebayor, who was a special guest at the event, could not help but join the duo on stage. Nollywood actor, Mike Ezuronye also joined them on stage.
Adebayor in his remarks described P-Square as the best music export from Nigeria and Africa as a whole, claiming that their stage presence and coordination are second to none.
The high point of the lively performance was when P-Square performed their new single titled Alingo. Though the song was released a few weeks ago, it was a sing-along affair among the UK fans. Shortly after this, P-Square dedicated one of their hit songs, Beautiful Onyinye, to their late mother, Mrs. Josephine Okoye.
P-Square arrived UK on Wednesday, 22 August, 2012 for the concert organised by Coko Bar. They had a tour of major radio and television stations including BBC.
—Bayo Adetu 

Load more